Manchester United defender Rio Ferdinand has confirmed his retirement from England duty to concentrate on his club career.
Ferdinand won 81 international caps and scored three goals across a 14-year England career, but hasn't appeared for his country since June 2011 due to injury concerns.
Manager Roy Hodgson called Ferdinand into his squad for the World Cup double-header against San Marino and Montenegro in March but the 34 year old withdrew citing his intrinsic fitness regime, an episode which brings an end to his international career 13 months out from the 2014 World Cup.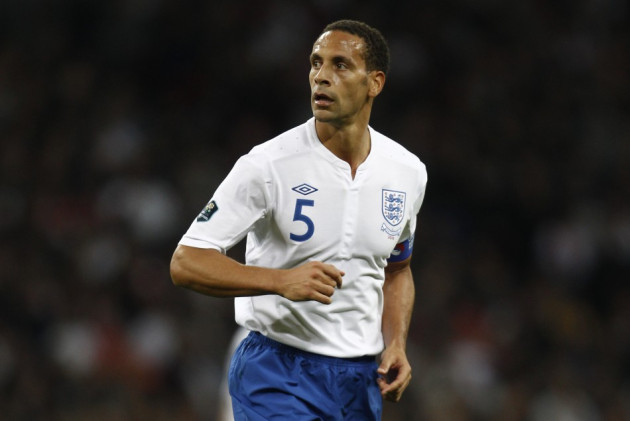 "After a great deal of thought, I have decided the time is right for me to retire from international football," Ferdinand said.
"At the age of 34, I feel it is right for me to stand aside and let the younger players come through, which allows me to concentrate on my club career.
"The team looks in great shape and there is an influx of young, talented players coming through the ranks which bodes well for the future.
"I regard it as a great honour and a privilege to have represented my country at every level from U17s upwards.
"I have always been very proud to play for England. I would like to wish Roy and the team all the best for future tournaments.
"A big thank you to all the fans, managers, coaching staff and players that I have worked alongside - the journey has been incredible."
Ferdinand made his international debut aged 19 against Cameroon in 1997 before travelling as a non-playing member to the 1998 World Cup in France.
After missing out on Euro 2000, Ferdinand went to successive World Cups in 2002 and 2006 as England's first choice defender alongside first Sol Campbell and then John Terry.
In 2010, Ferdinand was handed the England captaincy after Terry was removed as skipper but a knee injury in a training session at the start of the World Cup in the summer saw him ruled out of the tournament.
Just 13 months after being handed the armband, Ferdinand was replaced as captain by Terry in March 2011 and despite making his final international appearance against Switzerland in June, Hodgson omitted Ferdinand from his Euro 2012 squad, signalling the end of his international career.
Hodgson said: "It is important to pay tribute to someone of Rio's stature and the achievements he had in a senior international career with England over 14 years at the highest level.
"To have captained his country, to play at three World Cups and indeed score in one of those, marks him out amongst a very special group of players.
"I appreciated the call from Rio to inform me of his decision, which clearly he had spent much time considering before reaching this point.
"I wish him all the best in his club career, and I'm sure the former managers he played under and every England fan will join me in thanking him for his service."
Ferdinand claimed the 10th major honour of his club career after winning the Premier League with United this season and his decision points towards being handed a new contract at Old Trafford, with his current deal due to expire this summer.
While the ex-West Ham United and Leeds United defender enjoyed a long and illustrious career with England, his international tenure will undoubtable be defined by his inacpicious spell as captain, his failure to break back into the squad under Hodgson and his omission from the Euro 2012 squad amid his relationship with Terry.