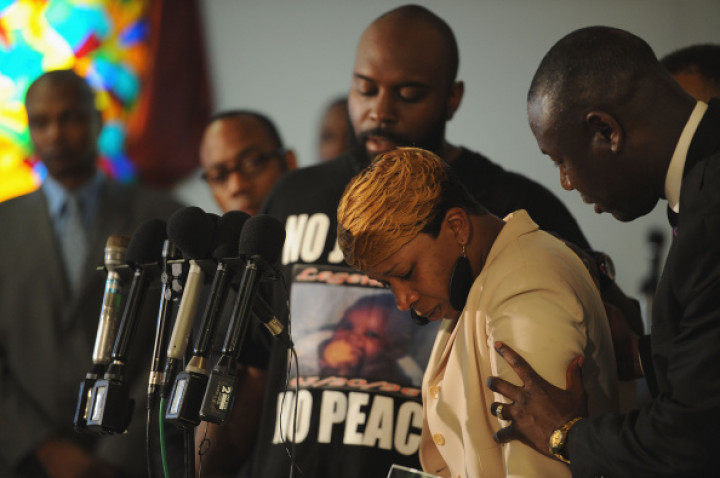 Parents of Michael Brown, a Missouri-based teen who was shot down by police, addressed a United Nations panel in Geneva on Tuesday as the US awaits the final verdict on officer Darren Wilson.
"We need answers and we need action. And we have to bring it to the UN so they can expose it to the rest of the world, what's going on in small town Ferguson," Brown's parents, Lesley McSpadden and Michael Brown Sr., told CNN from Switzerland.
According to a brief presented to the panel at the UN Committee Against Torture, which advocates against violence by government authorities, the couple said, the events that led to the murder of their son, "represent violations of the Convention against Torture and Other Cruel, Inhuman or Degrading Treatment or Punishment."
Brown's parents have urged the UN for the immediate arrest of officer Wilson.
They have also called for UN's assistance to bring an end to, "racial profiling and racially-biased police harassment across the jurisdictions surrounding Ferguson [and the rest of America]."
The statement requests recommendations to be levied on the entire United States, and urges the attorney general and Department of Justice to, "conduct a nationwide investigation of systematic police brutality and harassment in black and brown communities, and youth in particular. Methodology and findings of this investigation must be made publicly available."
The couple's trip to Geneva is their first trip outside the United States, CNN reported.
Brown's parents wanted to make the trip to, "testify on behalf of many supporters who join in the appeal for global intervention in the way policing currently functions in America."
Mystery prevails on what exactly led officer Wilson to shoot 18-year-old unarmed Brown in August.
"It's a situation where I'm surprised we haven't even lost our mind yet over this. But we're being strong. Hopefully, justice will prevail," said the couple.
The entire statement submitted by the Brown family can be read here.