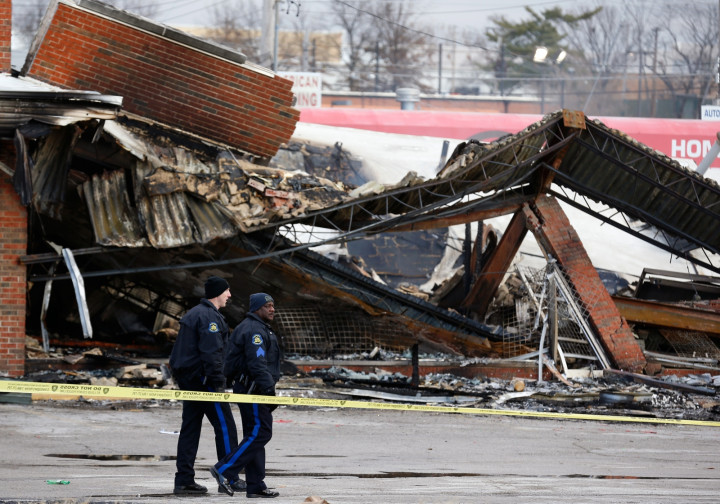 The body of a black male has been found in a car parked in the complex where Michael Brown was shot dead.
KTVI-TV reported that the man in his 20s was shot dead and set on fire near the Canfield Green Apartments in what police are calling a suspicious death.
The St. Louis County Police Department released the following statement:
"The St. Louis County Police Department is on the 9400 block of Glenn Owen in Ferguson, MO, near the intersection of Windwood and Glenn Owen. At approximately 9 a.m. today, a citizen reported that an unresponsive man was inside a parked vehicle at that location. Responding officers discovered a deceased male inside the vehicle.
Body of a Black male found near Canfield Apt in #Ferguson. In his 20s shot to death and set on fire. @FOX2now

— John Pertzborn (@PERTZFOX) November 25, 2014
"No information on the identity of the man or additional information about the man, ownership of the car or circumstances leading up to the discovery. ... Detectives from the St. Louis County Crimes Against Persons are enroute to conduct the investigation.
"This incident is currently being classified as a suspicious death and will remain so until evidence allows a different classification. No further information at this time."
After a grand jury decided not to indict Darren Wilson in Michael Brown's death, violent protests have taken place in the hours since. Gunshots have rung out and dozens of buildings were set on fire and looted in the Ferguson area.
More than 80 people were arrested during the civil disturbances and hospitals have treated at least 14 people who were injured.
Many schools in the Ferguson area have cancelled classes out of concern for the safety of the children.