Fernando Llorente is set to become a wanted man in the summer after revealing that he will be quitting Athletic Bilbao when his contract expires at the end of the season.
The 27-year-old has long been linked with a move away from Bilbao after failing to agree a new contract and he will now be wanted by a host of top European clubs after confirming he will leave the Spanish side in the summer.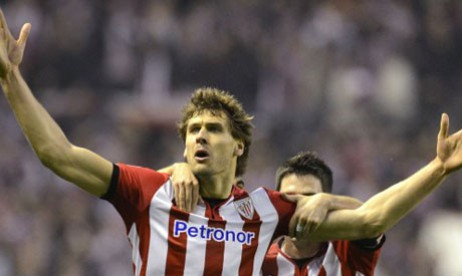 "I am going to leave on 30 June," said Llorente, as reported in the Guardian. "I want to develop as a player and try something new. It isn't about money because the offer the club made was irresistible.
"The media have not helped with the negotiations and it is one of the things that has generated the bad atmosphere around me out on the pitch. This has encouraged me not to renew my contract; this and many other things.
"I took the decision when I went out for the first Europa League game at San Mamés [in August].
"Most of what has come out in the press is lies and this has turned people against me. This has meant when I run out on to the pitch people whistle at me. There is a sector of the crowd who do not want me but I feel loved by the majority."
Llorente was heavily linked with a move to Juventus in the summer, but the Italian champions are certain to have some competition come the summer.
The Spain international has been linked with several Premier League clubs over the course of his career, and the latest news has led to north London rivals Tottenham and Arsenal both being linked with the forward.
Tottenham are short of options in attack with just two senior strikers in Jermain Defoe and Emmanuel Adebayor, while Arsenal have struggled to replace the goals of Robin van Persie despite signing Olivier Giroud and Lukas Podolski.
Arsenal boss Arsene Wenger dismissed suggestions in the summer that he would sign Llorente, saying: "We have already signed Podolski and Giroud, Llorente does not interest us."
However, he may reassess as the Gunners have struggled in the league and are currently in 10th place, while Tottenham may also look at strengthening their options in they remain in the top four and achieve Champions League football.
The fact that Llorente will be available on a free transfer will certainly lead to a number of clubs chasing his signature as he has regularly proven his ability both domestically and in Europe.
He has continually been Bilbao's top scorer since breaking into the side back in 2005 and last season scored seven goals in European competition as he helped the club reach the final of the Europa League.