For all their industry and artistry on the ball, as Spain's draw with Italy reached its climax, you couldn't help but feel that a focal point to their stylish attacks would have produced a different result in Gdansk.
Their lack of cutting edge in the penalty area was indeed eclipsed by their brilliance on the ball. Andres Iniesta was given extra license to venture, Cesc Fabregas time to carry the ball forward and David Silva a central role in a Spain side he has often been on the peripheral of.
Vicente Del Bosque's side were less willing to be patient in their approach in their opening game, instead opting to move the ball into the final third at a greater pace; Jordi Alba even attempted sacrilege in the early stages, a long cross-field ball.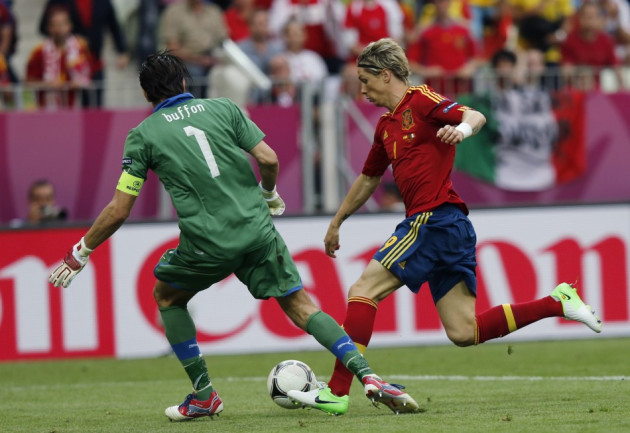 Those tactics would normally lend themselves to an out-and-out forward, a pivot to the attack, someone for the likes of Iniesta and Fabregas to bounce the ball off and feed in the penalty area.
For those who have watched the Europa League during the past season will have identified Fernando Llorente as the ideal candidate to be the Torvill to Iniesta's Dean. Lanky the Athletic Bilbao striker may be, but with bags of vision and a potent finish to match, he appears the obvious choice.
But when it comes to cutting edge, no-one does it, or did it, like Fernando Torres. If terrific league season's for the likes of Alba and Silva saw them given the nod against Italy, then the Chelsea man, for the same reason, was rightly left out from the start.
Correctly accused of looking lacklustre, unfit and unmotivated, at least until the twilight of Chelsea's domestic campaign, his cameo appearance against the Italians saw more evidence that while his elusive touch in front of goal hasn't permanently returned, his movement and desire certainly has.
If the goals aren't forthcoming, the greatest indicator of an out-of-form striker is not in the chances he misses, but in the regularity of them. There's little doubt that at times this season, Torres was conspicuous by his absence in-front of goal. At least on Sunday evening, the former Liverpool forward saw two presentable opportunities come and go in his 16-minute bit-part role.
Granted, the chances came during a game which Spain hardly failed to test Gianluigi Buffon; with Iniesta and Silva producing the better efforts that their pressure yielded, yet the signs that the man who sealed victory in the European Championship final in 2008 was close to finding his feet must surely spark a re-think.
Del Bosque justifiably fielded six midfielders in response to Torres' woeful form, but with signs that his faith still remains, and that the 28-year-old still possesses the movement required to ably slot in Spain's fluid system, he must be tempted to include him come Thursday's encounter against Republic of Ireland.
In perhaps his best away performance of the season, Torres ended his six-month Premier League goal drought with an emphatic strike against Richard Dunne's Aston Villa. The Irish vice-captain won't be relishing a rendezvous with El Nino.