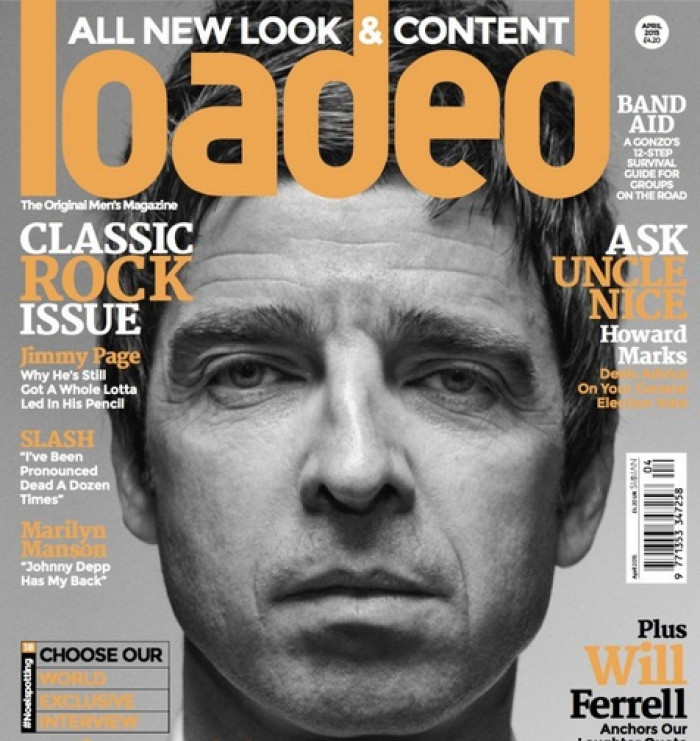 Loaded Magazine has hit shelves for the final time after the title that launched the so-called "Lads' Mag" genre announced it would no longer exist in print.
The April issue - which features Noel Gallagher on its cover - will be its last after sales slumped to 35,000 a month in 2011, the last year for which figures are available.
It is a far cry from the title's halcyon days during the early 2000s when it sold 350,000 copies and was a bastion of former owner IPC Media's formidable stable of brands.
A statement by Simian Publishing said: "As of the current April issue, published on March 26th, Loaded will cease to trade as a printed magazine.
"We would like to pay tribute to our customers, staff and especially our contributors and editorial team."
The inclusion of Gallagher, former lyricist and guitarist of seminal 90s band Oasis - now with his own group Noel Gallagher's High Flying Birds - could be seen as the perfect way for the title to bow out, with a reference to glory days of decades past.
Loaded launched in 1994 with Gary Oldman as its first cover star. Inside, editor James Brown declared: "What fresh lunacy is this? Loaded is a new magazine dedicated to life, liberty and the pursuit of sex, drink, football and less serious matters.
"Loaded is music, film, relationships, humour, travel, sport, hard news and popular culture. Loaded is clubbing, drinking, eating, playing and eating.
"Loaded is for the man who believes he can do anything, if only he wasn't hungover."
The magazine was the first to capture the "Lad culture" zeitgeist of the 90s and its pages were often devoted to raunchy photo shoots, football and maniacal features.
It inspired other titles, including FHM and Maxim, and later the weeklies Nuts and Zoo, but despite multiple owners' attempts to re-brand Loaded, its readership dwindled, forcing the once-eponymous title to wind up.
Former features editor Sam Rowe told IBTimes UK the magazine's success partly brought it to its knees.
"When Loaded launched in 1994 no-one expected it to last 20 minutes, let alone 21 years, and this includes senior figures within IPC Media [now Time Inc] who'd place bets on how long it'd take before the magazine was binned," Rowe said.
"The fact it was still going in 2015, outliving some of the fantastic publications that closed along the way, is actually quite ridiculous.
"It was a Doc Martin up the backside of magazines, and epitomised the cultural zeitgeist of the mid-nineties - a time of New Labour, Brit Pop, Baddiel and Skinner, lager, football, Chris Evans and Harry Enfield - spawning a generation of imitators that in part contributed to its eventual decline."
While 'Laddism' used to be dangerous and cool, Rowe believes the culture has become tainted.
"'Lad' is a dirty word nowadays, but back then it was at the cutting edge of cool," he added.
"In the 90s you'd see politicians necking pints, talking football and pretending to be working class, whereas today 'laddism' has somehow evolved into something rather toxic - now apparently meaning Jager-bombs, Dapper Laughs and casual misogyny.
"I worked at Loaded for all of 18 months, and I can honestly say I enjoyed every day of it. I shared an office with a team of journalists who, contrary to belief, were not knuckle-dragging apes, rather some of the sharpest minds in the industry - many of whom now reside in high-profile jobs in the media.
"Yes, girls did often appear on the cover - a decision that would come from the publisher, not staff - but during my time there so did Alan Partridge, Peter Griffin, Beavis and Butt-Head, The Inbetweeners and Kermit the Frog."