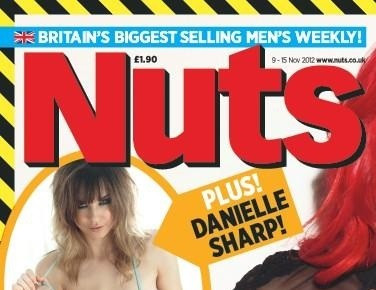 Its gaudy blend of boobs, bright colours, fast cars, gadgets and sport has sat on newsagents' shelves for a decade, but there soon may be an empty space where the young men's magazine Nuts once sat.
Following years of steadily declining circulation in a shrinking market, Nuts magazine's owners IPC Media said they have started a 30-day consultation period with its 25 staff on closing the print edition and its website.
Nuts, which launched in 2004, has struggled to compete against so much similar free content online. In the second six months of 2013 alone its circulation dropped by over 33.5% to 53,342, according to ABC figures. The broader lads mag market has been in decline since its peak in the late nineties.
Moreover, there has been intensifying criticism of magazines that display near-naked women on their front covers. Feminist campaigners have put pressure on supermarket chains to refuse to stock such magazines unless so-called modesty bags are put on them.
"After 10 years at the top of its market, we have taken the difficult decision to propose the closure of Nuts and exit the young men's lifestyle sector," said Paul Williams, managing director of IPC Inspire, in a brief statement.
"IPC will provide impacted staff with all the support they need during the consultation process."
When the modesty bag issue erupted in the middle of 2013, Nuts and its rival Zoo refused to use them.
The Co-operative supermarkets said they would no longer stock the magazines unless they used the covers, something IPC's Williams said was a "knee-jerk attempt to restrict access to a product that consumers have enjoyed for nearly a decade".
"Nuts takes its obligation to craft products that are right for consumers and retailers alike very seriously, and for a number of weeks now we have had new covers in place, which have a more conservative tone," he said at the time.
"As has been widely reported in the media in recent weeks, this is no longer a question of whether or not you like men's magazines, it is a question of how far you can restrict the public's ability to consume free and legal media before it becomes censorship."