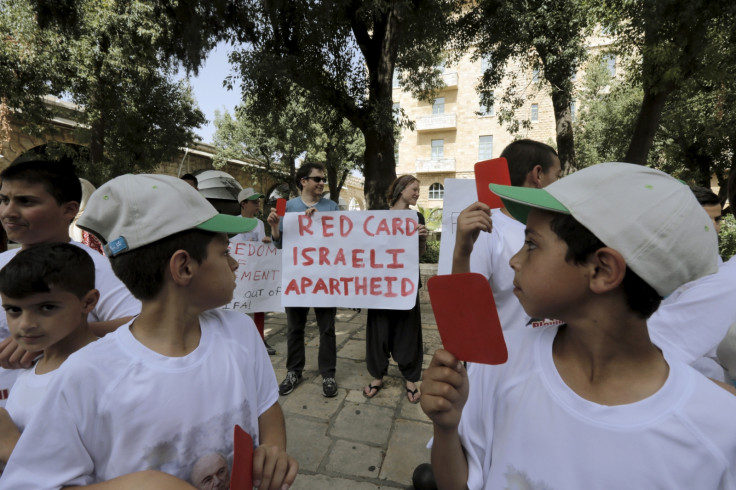 Amid a growing corruption scandal, Fifa has another crisis on its hands: deciding whether or not to expel Israel from the world footballing body.
Israeli officials met Fifa officials on 28 May to offer concessions to stall a vote on 29 May on a proposal by Palestine to oust it from the organisation.
According to Israeli newspaper Haaretz, despite Israel's efforts, the vote is expected to move ahead. On 27 May, Jabril Rajoub, the chairman of the Palestinian Football Association, said Palestine would withdraw its proposal if the United Nations issued a ruling on the status of five Israeli football teams in the occupied West Bank.
A Haaretz source said Israel offered four major concessions in its proposal: granting Palestinian players and coaches special documents to ease travel from Gaza to the West Bank and abroad; easing restrictions by Israel and promoting soccer-related projects in the West Bank; covering the costs of tax and customs for sports equipment imported by Palestine to the West Bank through Israel; and forming a joint committee comprised of Israeli, Palestinian and Fifa authorities to meet monthly and discuss any issues that could come up.
While Fifa president Sepp Blatter seemed open to Israel's proposal, he said he would need Rajoub's approval before removing Friday's vote.
The Palestinian chairman previously told reporters that nothing would persuade him from removing his proposal. "I am going to end the suffering and the humiliation of the Palestinian footballers," he told the BBC. "It is our right."
Benjamin Netanyahu threatens to collapse Fifa
However, Rajoub allegedly agreed but demanded that Fifa ask UN Secretary Ban Ki-moon to issue a decision on the Israeli teams within three months. Blatter appeared to lean towards accepting the new demand to avoid expelling Israel, the source told Haaretz.
According to Haaretz, Fifa rules state that teams not in Israeli territory require consent from Palestine to participate in Israel's leagues. The UN does not include the West Bank as a part of Israel, forcing the Israeli football association to either expel the teams or risk violating Fifa regulations.
Israeli Prime Minister Benjamin Netanyahu vowed to fight a suspension from Fifa, threatening to destroy the sporting organisation.
"It would be a blatant politicisation of sport and the result will be Fifa's collapse," the prime minister told reporters. "The Athenian Assembly thousands of years ago collapsed when they started ousting people. They cancelled its universality. The same will happen with Fifa. We'll fight against it."