Embattled Sepp Blatter has been told in no uncertain terms by former French captain and now Uefa chief Michel Platini to quit or the European federation will "revise its relations with Fifa".
And in the broadest hint that the Uefa might boycott the World Cup if the 79-year-old Blatter fails to quit, Platini said the Fifa president's re-election would be a watershed for football.
"We cannot work with [Mr Blatter] any longer," he said. Asked whether European nations would boycott the 2018 World Cup in the event of his re-election, Platini said: "We will consider all options."
Blatter has vehemently ruled out stepping down as the scandal engulfing the world footballing body threatened his re-election as president.
And Blatter, who faces re-election today, 29 May, for his fifth term as president, maintained that he was not responsible for everyone else's actions in the organisation.
Seeking to distance himself from the "shame and humiliation" suffered by Fifa following separate anti-corruption investigations in Switzerland and the US, he pleaded for more time to rebuild trust in the organisation, as well as its reputation.
Addressing the Fifa congress after an emergency meeting with the heads of the world regional football federations, Blatter said: "The events of yesterday have cast a long shadow over football and this congress. They bring shame and humiliation to football and demand change from us all. We cannot allow the reputation of Fifa to be dragged through the mud any longer.
Blatter: 'I cannot monitor everyone all the time'
"I know many people hold me ultimately responsible, [but] I cannot monitor everyone all the time. If people want to do wrong, they will also try to hide it.
"Football cannot be the exception to the rule, that is our responsibility at Fifa, and we will co-operate if anyone is involved in wrongdoing. There can be no place for corruption of any kind. Let this be the turning point. More needs to be done to make sure everyone in football behaves responsibly and ethically.
"Football deserves so much more and we must respond. Tomorrow, at the congress, we will begin a long and difficult road. We have lost trust, at least part of it, and we must now earn it back, through the decisions we make.
"We like this game ... not for greed, not for exploiting, not for power, but because of the love of the game. Solidarity and unity is asked for the game, for the world, for peace."
There has been growing support for Blatter's only challenger, Jordanian Prince Ali bin al-Hussein, who is backed by most of the European body, Uefa. However, due to support from the Asian and African federations, Blatter is expected to win a fifth term.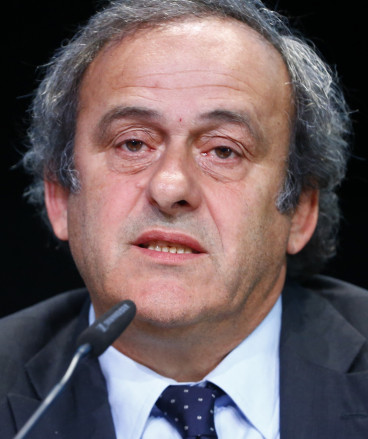 Earlier on Thursday, 28 May, Blatter received a public rebuke from Platini, who urged him to resign.
Blatter refused point blank, saying it was "too late" to do so, leading Platini to urge Uefa's members to support Prince Ali, while considering "all options" if Fifa remains led by Blatter.
Platini said he had told Blatter to go "with tears in my eyes", and added that about 45 members of Uefa would back Prince Ali.
"I said, 'I'm asking you to leave, Fifa's image is terrible.' He said that he couldn't leave all of a sudden," Platini, a former French international, told reporters.
Meanwhile, Swiss authorities have also announced a criminal investigation into the awarding of the next two World Cups, which are being hosted in Russia in 2018 and Qatar in 2022.
US authorities said nine football officials and five sports media and promotions executives faced corruption charges involving more than $150m (£100m) in bribes.
Both Qatar and Moscow have denied any wrongdoing, and Russian President Vladimir Putin accused the US of meddling in the affairs of other countries in a bid to prevent the re-election of Blatter.
"This is yet another blatant attempt to extend its jurisdiction to other states," Putin said, adding that Russia would continue to support Blatter.