Fifty Shades Of Grey was a film just waiting to be spoofed and who better to put a comedic spin on the erotic movie than parody king Marlon Wayans. The actor and director, best known for his Scary Movie and Haunted House franchises, takes the helm with Fifty Shades Of Black starring as millionaire businessman Christian Black, alongside actress Kali Hawk as his submissive Hannah Steale aka Anastasia Steele.
Although Wayans, 43, is a box office hit with his movies, including White Chicks, grossing more than $750m (£527m) collectively at cinemas, audiences are often hard to impress with spoofs. So has Wayans hit the mark with Fifty Shades Of Black?
Our verdict
Fifty Shades Of Black is ridiculous, outrageous and everything in between but would you expect anything less from a movie about sex and BDSM? With the film rated R in the US, Marlon Wayans was never going to hold back on the obscene gags and if that notion is accepted beforehand, 50 Shades Of Black should be enjoyable viewing.
It does take a while for the film to warm up with jokes such as multi-millionaire Black robbing an old lady in the street perhaps playing up too much to the 'criminal black man' stereotype often seen in these types of movies. The race card, as expected, features heavily throughout Fifty Shades Of Black, naturally given that the lead character, played by Jamie Dornan in the original, is now African-American.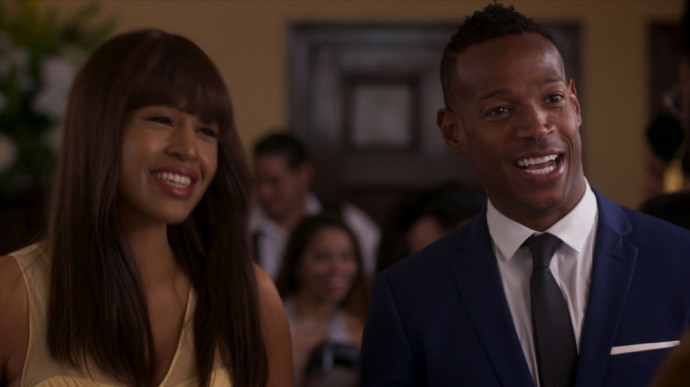 At times, the racial stereotypes are too over-the-top to be considered funny – Christian Black's well-endowed brother Eli aka Weekday (Affion Crockett), whose hair is styled like r'n'b singer The Weeknd, swings around his floor-dragging prosthetic penis occasionally because, you know, we are led to believe all black men are incredibly blessed in that department.
In some instances, it manages to slightly rise above the cliche enough to make it work. It's hard not to find it amusing when Christian's adoptive mother admits she still hides her purse from her own son because he is black.
The majority of the truly humorous, laugh-out-loud moments come from encounters in Christian's red room. The BDSM-obsessive has a series of whips lined up against the wall, each labelled with titles of slave movies, ranging from everything such as Amistad, Roots, Django Unchained and 12 Years A Slave, while a flashback sequence shows his failed attempts to woo previous lovers into his room of pain and pleasure – one woman has no idea what flogging is but prays Christian finds Jesus.
Watch the Fifty Shades Of Black trailer:
Kali Hawk, who stars as Christian's young submissive Hannah, plays the timid personality of Anastasia Steale with precision. However, whereas Anastasia remains well and truly under Christian's dominance in Fifty Shades Of Grey, Hannah eventually refuses to be submissive and gives as good as she gets. The role reversal between the college student and her rich lover is perhaps the strongest point of Fifty Shades Of Black as it strays away from the cliche of Grey.
Fifty Shades Of Black is by no means perfect but it does what a spoof should do. It laughs at the holes in serious movies – in this case, the fact that Christian Grey comes across as a serial killer stalker buying rope and plastic sheets from the hardware store where Hannah works – and puts it on the outlandish end of the spectrum.
If you can get past the obvious stereotypes and flat gags, including Hannah's ratchet roommate Kateesha who actually happens to be white, then Fifty Shades Of Black will give you nothing more than a few good laughs, and what's wrong with that?