Amid allegations linking her to illegal drugs, Filipino senator Leila de Lima has accused the law enforcers in the country of using President Rodrigo Duterte's anti-drug campaign as an excuse to kill people.
Lima heads a senate committee on justice and human rights violations that is probing alleged extrajudicial killings of suspected drug dealers and users under Duterte's administration.
The investigation is expected to determine the nature of the killings and if they were all linked only to drug-related crime or perpetrated by any organised individual groups.
"My concern does not only revolve around the growing tally of killings reported by the Philippine National Police (PNP). What is particularly worrisome is that the campaign against drugs seems to be an excuse for some law enforcers and other elements like vigilantes to commit murder with impunity," the Phil Star quoted her as saying.
As a senate hearing got underway, Lima also sought to know when the current "war on drugs" campaign would end. She cited police figures that revealed that 899 people were killed for their alleged links to the illegal drug market. Since May, the number of killings as part of Duterte's campaign is reported to have doubled to about 1,800.
"How many people need to die before we act to correct this alarming situation?" the senator asked. "I strongly believe: Extrajudicial or extralegal killings, whether perpetrated by the state or by non-state actors must stop. Blatant disregard for human life has to stop," Lima added.
While pushing for a probe into the summary executions and extrajudicial killings, Lima assured the public that she would remain un-biased in the hearings, the Inquirer.net reported.
Defending the government, senator Alan Peter Cayetano said the number of deaths since Duterte took office has dropped to 20 a day as opposed to an average of 35 killings per day between 2010 and 2015. He said under the current administration most of the deceased were suspected criminals, Bloomberg reported.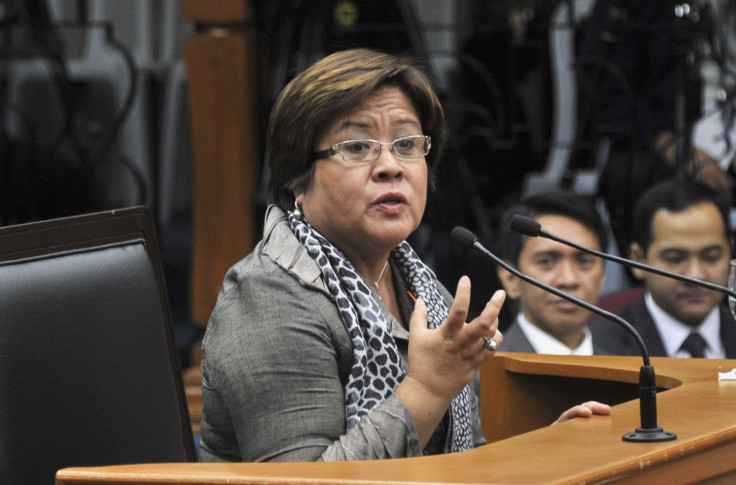 The war of words between Duterte and Lima began days before the senate started its probe with both the leaders hurling accusations at each other. Last week, Duterte called Lima an "immoral woman" and a "robber" for allegedly having a relationship with her driver, who the president claimed had collected money from drug criminals to support her election campaign.
Lima responded saying she was "willing to be shot in front of the president" if the accusations against her were proved.
Duterte has been aggressive in his push to eradicate drug-related crimes in the country. He has accused several government officials of having links to the illegal market. He threatened to pull the Philippines out of the United Nations following severe criticism about his campaign by the global body, which urged Manila to put an end to the killings.
However, Foreign Minister Perfecto Yasay clarified on Monday (22 August) the country is not leaving the UN. "We are committed to the UN despite our numerous frustrations with this international agency," Yasay told the media.