French presidential candidate Francois Fillon's bid to replace Francois Hollande has taken a fresh turn for the worse after his campaign manager quit and an allied political party called for a new candidate.
On Friday (3 March) Patrick Stefanini said he would resign after a rally of Fillon's supporters in Paris on Sunday. He will be replaced by Vincent Chriqui.
Earlier in the day the Union of Democrats and Independents (UDI), which is allied with Fillon's Republican Party, urged it to select another runner for the elections, which will take place between April and May this year.
French media said on Thursday that Fillon's Paris home had been raided in the wake of a scandal over payments.
It is alleged that the 62-year-old centre-right candidate gave fake jobs to his Wales-born wife Penelope and his children at taxpayers' expense. According to Le Canard Enchaine, Penelope was paid €831,400 (£710,000) to work as her husband's parliamentary assistant despite not having a parliamentary pass.
Fillon has repeatedly denied any wrongdoing and says he is the victim of a "political assassination".
According to the French newspaper Journal du Dimanche, Stefanini's resignation letter contained two reasons for quitting the campaign.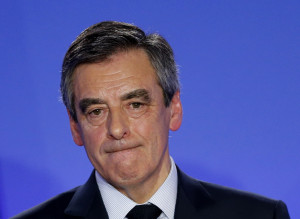 He said he had advised Fillon to abandon his campaign after an investigation began and when he continued Stefanini found himself in a minority in his political team.
He added that Fillon could no longer be certain of not being eliminated in the first round of voting.
Several of Fillon's allies, including a former government minister, have resigned from the campaign team and several MPs from his own party are campaigning to replace him with Alain Juppe, who lost a primary election against him.
The BBC reported that UDI leader Jean-Christophe Lagarde had said that Fillon had become a liability, and that as long as he was a candidate, the centre-right was heading for certain failure.
The scandal means that former investment banker Emmanuel Macron, a centrist, is in prime position to win the French presidency ahead of Fillon and National Front candidate Marine Le Pen.