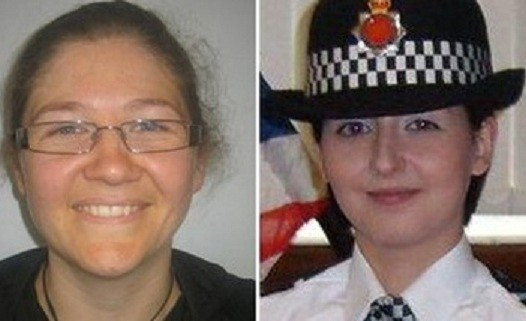 Thousands of well-wishers have gathered in Manchester for the funeral of Nicola Hughes, one of the police officers who was shot dead during a routine call last month.
Hughes, 23, was killed on 18 September when she and fellow officer Fiona Bone, 32, were called to investigate a burglary in Mottram.
People lined the streets to watch the cortege, after which Hughes's colleagues from the Greater Manchester Police carried the coffin, draped in black cloth, into Manchester Cathedral.
Officers from forces across the country volunteered to cover shifts in Manchester, so that Hughes's workmates could attend the service.
Following her death, co-workers paid tribute to Hughes. They said: "She was a chatterbox and was always smiling, even after a night shift when everyone else was a bit grumpy.
"She was a good listener and couldn't do enough for people, she was a lovely friend and a great bobby."
Family, friends and colleagues gathered inside the cathedral, while a big screen relayed the service to hundreds of people gathered outside.
Inspector Ian Hanson, chairman of the Greater Manchester branch of the Police Federation, invited people to come and show their respects to the officers ahead of the two funerals.
He told Manchester Evening News: "I would implore every decent member of Greater Manchester to come out to pay their own tribute and stand side-by-side with the police officers of Greater Manchester.
"I would say to people 'we police your communities when you need us - now we need you to stand shoulder-to-shoulder with us'."
The funeral of Bone will be held in Manchester Cathedral on 4 October.
Dale Cregan has been charged with the murders of both officers, as well as the murders of David Short and his son Mark.