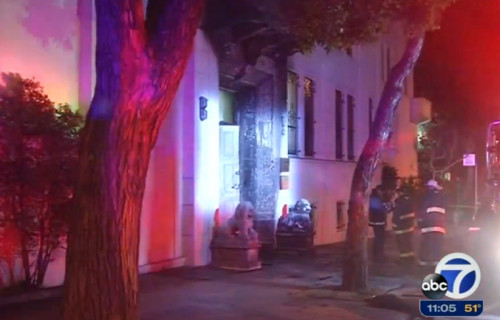 The main entrance of the Chinese consulate in San Francisco has been torched in an alleged arson attack.
At about 9.30 in the evening, an unknown individual poured two buckets of gasoline onto the diplomatic compound's front door and set it ablaze causing severe damage, a spokesperson from the consulate said.
Police and fire-fighters were called to the scene in the central Laguna Street.
An investigation has been launched into the incident which was being treated as arson, according to fire dispatchers.
No one was injured in the attack, but it drew strong protest from China nevertheless.
"The arson attack is a violent crime targeted at the Chinese consular institution in the United States, causing severe damage to the consulate facilities and posing a threat to the safety of the consulate staff and the residents living nearby," the consular spokesperson said.
"We strongly condemn this despicable act and have already made representations with the US side on the attack.
"We urge the US side to take all necessary measures to provide adequate protection for Chinese consular personnel and properties, and bring the culprit(s) to justice as soon as possible."
There was no immediate claim of responsibility for the attack and the reason for it remains unknown.
ABC7 news reported that a sign reading "Human rights into bed," was found at the scene but it is not clear whether it was connected to the alleged fire attack.
In 2008 the Chinese consulate in San Francisco was similarly attacked, when a group of people allegedly poured a flammable liquid onto the building's back gate and set it ablaze.
US–China diplomatic relations have been strained in recent weeks due escalating quarrels between some of Washington's allies, such as Japan, and Beijing over disputed territories.