Three people have been reported dead in the wildfires that are tearing through Sevier County, Tennessee.
Houses and hotels in the towns of Gatlinburg and Pigeon Force have been incinerated in the fires, which began in the Great Smoky Mountains on Monday (28 November), with tens of thousands of people evacuated.
The three people who were killed in the fire fell victim to blazes in three separate locations, as residents scrambled to flee the flames and smoke – with no information as yet on further fatalities, CNN reported.
"This is a fire for the history books," Gatlinburg Fire Chief Greg Miller told USA Today. "The likes of this has never been seen here. But the worst is definitely over with."
Miller added there were at least 14 buildings still burning in the tourist town of Gatlinburg, with fire fighters carrying out door knocks to ensure there were no residents stuck in their homes.
Among the numerous attractions in Gatlinburg is Dollywood, the theme park owned by country singer Dolly Parton. An aquarium housing thousands of animals is also reportedly threatened.
Pete Owens, a spokesperson for Dollywood, told USA Today that no structures inside the park had been damaged and guests had been evacuated from some of its properties. Fire crews in the park were standing by if needed to protect the buildings.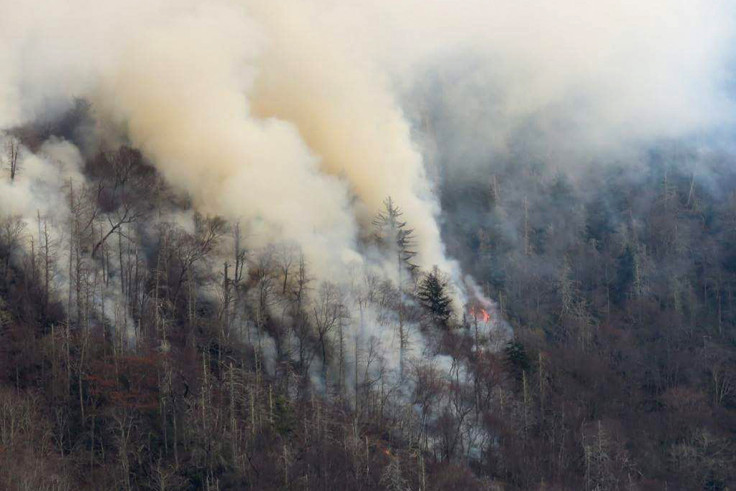 It is believed the flames of the fire were fanned by winds that reached speeds of up to 80 miles per hour, causing the town to suffer from the effects of the blaze in less than 15 minutes.
"That's nowhere to be when you're trying to fight a fire," Miller said. "That is hurricane force. Within a span of 15 minutes, we were dispatched to more than 20 structure fires."
Thousands of people have been housed in temporary shelters, with local businesses providing food, blankets and other supplies to those displaced by the blaze. A level-three state of emergency has been in place since 10 November, due to ongoing drought conditions and the threat of wildfire in the state.