A Canadian firefighter was hospitalised after being exposed to fentanyl, the synthetic opiate ravaging parts of North America, while helping a comatose driver.
The Winnipeg serviceman was called to assist an unresponsive person behind the wheel of a car on Arlington street on Wednesday (31 May), according to United Fire Fighters of Winnipeg president Alex Forrest.
Forrest told CBS that the unnamed fireman came into contact with the opioid, which can be 100 times more powerful than street heroin, and immediately began acting strangely.
His colleagues realised he was overdosing and called an ambulance. The firefighter was rushed to hospital and treated before being released the same day.
"He's still suffering from the effects today and he'll be off for at least one more day," Forrest told CBS on Thursday.
Canada has been blighted a fentanyl epidemic that continues to take the lives heroin users unaccustomed to the strength of a fentanyl-laced hit.
Last month, mother Sherri Kent uploaded a picture of online, which showed her with dying son Michael, 22, as they said their last goodbyes on a hospital bed.
"My son was not an addict he made a mistake that cost him his life" she said.
"I just want to make everyone aware of the epidemic that's going on right now that's killing 5-7 people a day in every city in Canada."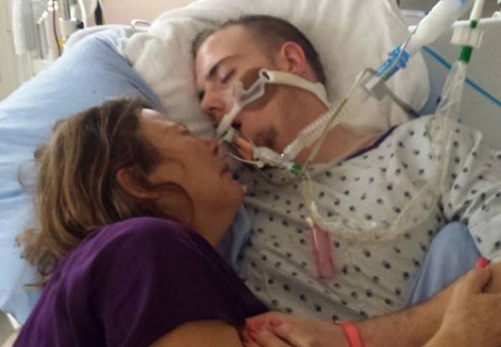 Emergency services across North America are drawing up new protocols for dealing with drug-related incidents because of the unprecedented strength of fentanyl and its even stronger cousin, carfentanyl.
Earlier this month, an Ohio police officer nearly died after brushing the deadly substance off his shirt following a drugs bust.
East Liverpool police say they now routinely field-test drugs and have begun to double bag all narcotics evidence because of fears that officers will be exposed to fentanyl and carfentanyl,.