A picture appearing to show a 'birds nest' of used needles in Vancouver has been published online by a police officer amid the backdrop of a Canadian fentanyl epidemic.
Dozens of needles, arranged in a dirty sink like a nest, with three small white eggs lying smug among them, can be seen in the photo uploaded by Superintendent Michelle Davey.
The high-ranking policewoman apparently took the shot in a vacant unit of a housing block in the Downtown area of the west Canadian city.
She uploaded it to raise awareness about the stark consequences of opioid use.
"Pigeons spotted making a nest out of needles in a Downtown East Side single resident occupancy room," Davey wrote on Twitter. "Sad reality of the opioid crisis."
Vancouver, like many Canadian and US cities, has been gripped by a new drug-death epidemic in the last 12 months as heroin is increasingly being cut with fentanyl, an opioid 100 times more potent than the street drug.
Canada's National Post reports that more than 100 people have been killed by overdoses in Vancouver already this year and many more have been hospitalised.
The newspaper adds that on a single night in April, paramedics were called to 12 overdose cases in the city's Downtown East Side – an area notorious for its open drug trade.
The epidemic is being felt across Canada: It is less than two weeks since a mother released a heart-breaking photograph of herself with her dying son on his death bed after a suspected fentanyl overdose in Kelowna.
There are even fears the synthetic opiod – and its even stronger cousin carfentanyl – are beginning top be used in the UK after a string of heroin-related deaths in the north-east of England.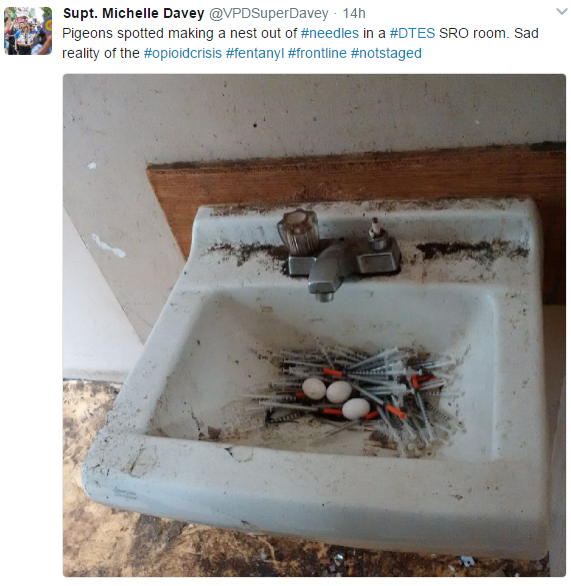 Vancouver Police have not confirmed whether the 'nest' in Davey's picture was arranged by pigeons or by human hands.
The picture was shared "to show the reality of drug use in the Downtown Eastside and to provide a rare glimpse into the lives of first responders, health care providers and others involved in the opioid crisis," according to Vancouver spokesman Staff Sgt Randy Fincham.
According to the Vancouver Police website, Davey has previously worked as a hotage negotiator and a detective in the sex crimes unit.