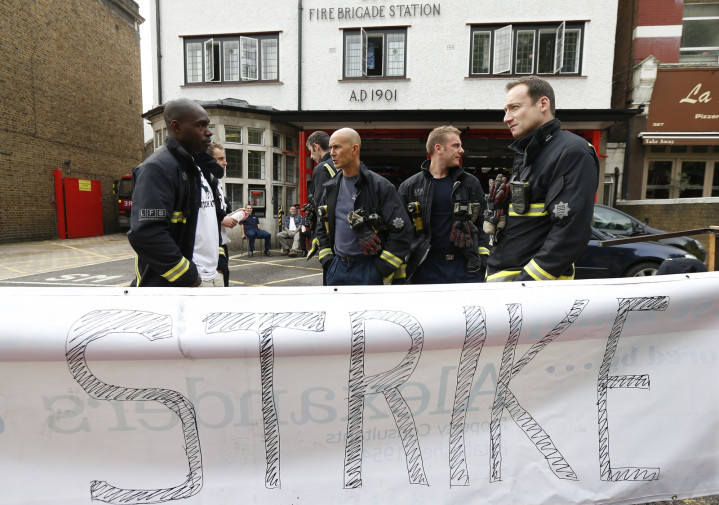 Firefighters in England and Wales could stage further strikes in a row over pensions despite efforts from the fire minister to resolve the disagreement.
The parties are locked into an ongoing dispute over a proposal from the government to increase the retirement age of freighters from 55 to 60.
The Fire Brigades Union, which represents 39,983 firefighters, said it wanted another "urgent" meeting with Penny Mordaunt MP who oversees the department after they sat down to discuss the situation on 22 August.
Matt Wrack, general secretary of the FBU, informed his members – in a circular seen by IBTimes UK – that Mordaunt's resolution techniques were "unusual".
"[Mordaunt] asked the union to set out the steps which would deliver an end to strike action, i.e. for the union to set out our 'bottom line'," Wrack said.
"This is a most unusual way of attempting to conduct business and negotiations cannot proceed on that basis.
"It is almost impossible to envisage a situation whereby any set of negotiators would agree to such a demand."
Wrack was also critical of a letter the fire minister sent to all fire fighters regarding the dispute.
Mordaunt said in the correspondence that she was "considering a number of issues" regarding the service's pension reform programme and that "this work is likely to conclude week commencing 8 September".
"Unfortunately, in neither case, is she clear or explicit about what work is being undertaken, which colleagues are being sounded out, or about what," Wrack said.
"Clearly that position would be unsatisfactory were it to continue. If frank discussions are to take place, that must apply to each side equally."
The latest development comes after the FBU held a strike across England and Wales from 9 August to 16 August.
The union did not take action in Scotland and Northern Ireland because improved pension proposals were being discussed in the regions.
The Department for Communities and Local Government had not responded to a request for comment at the time of publication.