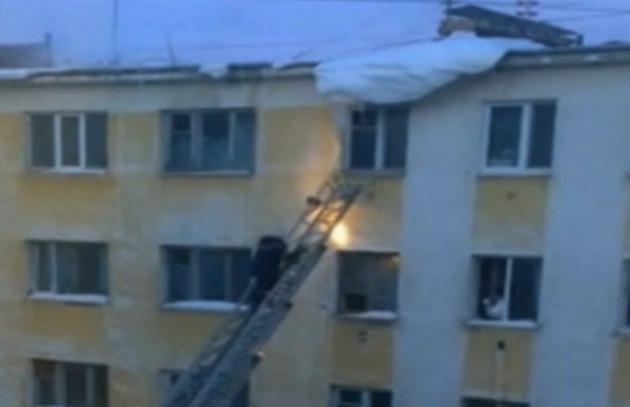 A Russian firefighter's bid to save a child from a burning building almost proved fatal when he was hit by a huge slab of snow hanging from the building's roof.
In footage posted online, the unidentified man is seen trying to reach a woman with a baby trapped on the upper floor of a dormitory in the Russian city of Magada by climbing a scaling ladder.
Emergency services were called after she became trapped in an eight-inch-wide gap between two buildings.
After reaching the top-floor window, he is sent flying down the ladder by the large section of snow that had built up on the roof.
Luckily with the help of his colleagues, the rescuer managed to grip onto the ladder after falling several metres upside down.
While he gets back up, another fireman joins him to complete the rescue mission.
According to local reports, the woman and baby suffered no injuries and the fireman hit by the mini-avalanche was also unhurt.
The dramatic rescue has since gone viral with many viewers hailing the fire-fighters' bravery.
One viewer said: "Brave lads - they deserve every penny they get."
Another commentator said: "tough man. Happy that he and the baby are safe."