Firemonkeys, the result of EA combining its two mobile studios Firemint - makers of Flight Control and Real Racing - and Iron Monkey - behind EA games Mass Effect Infiltrator and Dead Space - has announced Real Racing 3 for iOS and Android.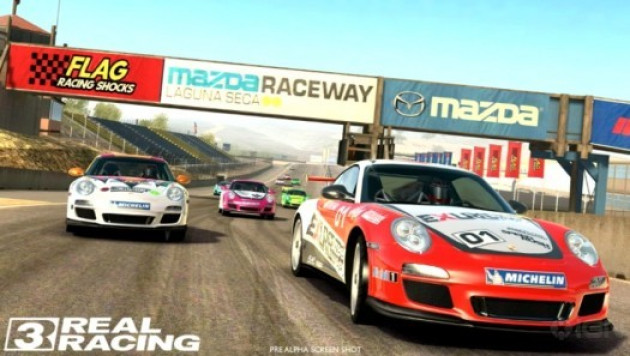 The third installment of the car racing game for iPhone, iPad and Android sees a range of new and fully licensed cars and tracks, excellent graphics and up to 22 players competing at once.
Firemonkeys said: "Featuring all-new licensed tracks and a robust lineup of licensed cars from all-new manufacturers, Real Racing 3 is set to deliver a rich, next-gen racing experience with the most beautiful and authentic circuit racing available on mobile devices.
"Gamers will enjoy graphics that have been meticulously hand-crafted to produce photorealistic visuals as they zoom around in cars from manufacturers like Porsche, Dodge and Audi."
The developer has released a trailer showing a full grid of 22 Porsche 911s battling it out on the Laguna Seca racetrack in America, and the game also features the Indianapolis Motor Speedway and home of the British Grand Prix, Silverstone.
This third instalment of the game is the first time real-world tracks have been included, following on from the inclusion of licensed cars for the first time in its predecessor.
Even in this pre-alpha footage released by Firemonkeys, Real Racing 3 looks incredible, with high levels of detail seen inside and outside of the cars, as well as in the tracks and surrounding environment.
Firemonkeys adds: "For the first time in the series, Real Racing 3 will also include a full line-up of real world tracks from the top names around the world including Mazda Raceway Laguna Seca, Indianapolis Motor Speedway and Silverstone. With a 22 car grid, gamers will be able to pit themselves against 21 other drivers in one race.
"Fans can experience the glory of championship racing on real tracks recreating the full race-day pressure and environment in a game that harnesses the full power of mobile hardware to produce a beautiful racing environment."
No release date was given, other than that Real Racing 3 will arrive later this year on iOS and Android.