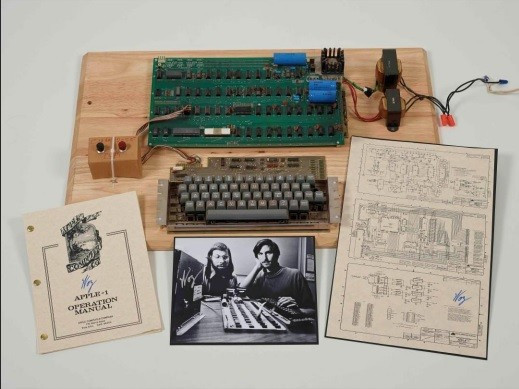 An extremely rare 38-year-old Apple-1 computer could fetch up to $600,000 (€480,000, £375,000) at auction when it goes under the hammer on 11 December - and that's a conservative estimate.
Called the Ricketts Apple-1 Personal Computer, named after its original owner Charles Ricketts, the computer is believed to be the last surviving model to be personally sold by company founder Steve Jobs, then aged 21, from his parents' house in Los Altos, California.
The computer, one of around 50 remaining from an original run of 200 hand-made by co-founder Steve Wozniak, is being sold through the Christie's auction house by Robert Luther, a collector who bought it in a police auction in 2004.
The Apple-1 was the first computer sold by Jobs and Wozniak and it has become something of a collector's piece; one recently sold for $905,000, double the estimate, while other examples have recently changed hands for between $175,000 and $500,000.
'A very powerful attraction'
Explaining how a computer with no screen, keyboard, mouse or even case could attract such a large price, Andrew McVinish, Christie's director of decorative arts, told Reuters: "It all started with the Apple-1 and with this particular machine. When you see a child playing with an iPad or iPhone, not too many people know that it all started with the Apple-1, so to be able to own a machine that started the digital revolution is a very powerful attraction."
When this model was last sold in 2007, the computer was serviced by an expert and started without any problem. A Star Trek game originally created to run on the Apple-1 was used to test it out, Christie's said.
It is being sold with a cancelled cheque dated 27 July, 1976 and made out to Apple Computer by Ricketts for $600. Ricketts later labelled the cheque as "purchased July 1976 from Steve Jobs in his parents' garage in Los Altos."
This cheque, along with a second from August the same year labelled "Software NA Programmed by Steve Jobs August 1976," were used as evidence for the city of Los Altos to designate the Jobs family home eligible for listing on the National Register of Historic Places.