A Russian politician has claimed that Apple CEO Tim Cook would bring "Ebola, AIDS and Gonorrhea" if he was allowed into the country,
St Petersberg city council member Vitaly Milonov called for Cook to be banned for life from Russia during an interview with Flashnord.
"What can he bring us? Ebola, AIDS, gonnorhea?" Milonov said. "They all have promiscuous relations (in the West). Ban him forever."
Tim Cook revealed publicly for the first time on 30 October that he was gay in an essay for Businessweek.
"While I have never denied my sexuality, I haven't publicly acknowledged it either, until now. So let me be clear: I'm proud to be gay, and I consider being gay among the greatest gifts God has given me," Cook said.
"Of course, I've had the good fortune to work at a company that loves creativity and innovation and knows it can only flourish when you embrace people's differences."
Milonov, who has gained a reputation in Russia for his homophobic stance and instigation of various anti-gay laws, claimed that Cook's announcement was politically motivated.
"Apple has become a popular brand," Milonov said. "Cook is like an artist who only comes out as gay only after he has made it as an artist.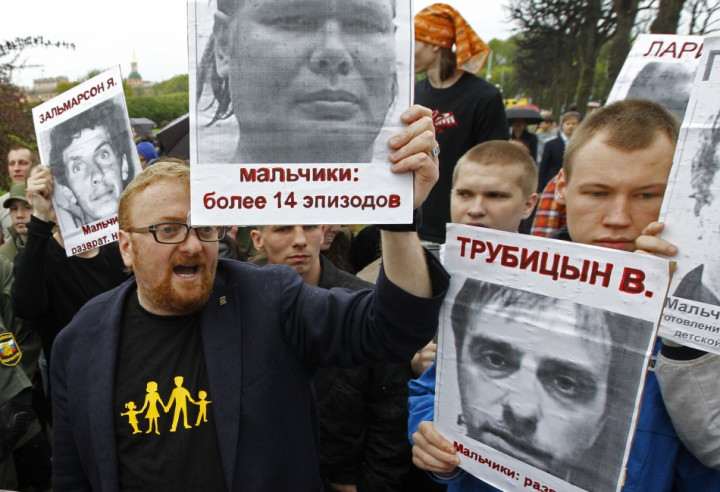 "Now everyone knows that Apple has homosexuals, and people begin to change their minds - he's talented. It's a shrewd political move."
Gay rights campaigners have previously spoken out against Milonov's views and the anti-gay laws that have been put in place in Russia.
In 2013, The Council for Global Equality penned an open letter to Russian President Vladimir Putin to condemn the legislation that "demonizes and discriminates" against lesbian, gay, bisexual or transgender (LGBT) citizens.
"These laws are tearing apart the lives of Russian LGBT citizens and their families," the letter read.
"These discriminatory, anti-LGBT laws call into question the democratic path that Russia ostensibly has chosen. They disregard the obligation carried by all democratic societies to respect and protect minority populations of any kind. And they deny not only the promise of equality under the law, but the fundamental freedoms of speech, assembly, and association that are core to any democratic system."