Three Turkish soldiers have been killed and four more injured in an Isis missile attack in Syria, the first Turkish military casualties inflicted by Isis since Ankara entered the ground war in July.
The three soldiers were killed as Daesh counter-attacked against Turkish positions in northern Syria. Turkish forces supporting Syrian rebel troops moved over the border into Syria ahead of an assault on the Islamic State held city of Jarablus two weeks ago.
The air and ground operation – backed by the US – rapidly advanced on Jarablus, with rebel fighters declaring victory just 14 hours after the attack began. It has been Turkey's largest intervention in the Syrian civil war over the course of its five-year-long involvement.
The Turkish military has said in a statement that the militants fired rockets at Turkish tanks during clashes from territory where they were was pushed out of on Sunday.
The missiles immediately killed two and wounded five soldiers. The injured were evacuated by helicopters. One of the injured later died in hospital despite efforts to save him, according to Turkey's state-run Anadolu news agency.
Turkish officials have characterised the military operation as an anti-terror exercise. However, the advance into Syria has put the country's military into direct confrontation with Kurdish forces. On the fifth day of the Turkish advance into Syria, a Turkish soldier was killed in clashes with Kurdish fighters.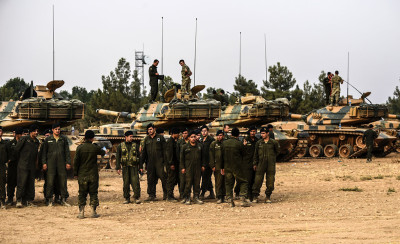 The Kurdish-led group known as the Syria Democratic Forces, or SDF, recaptured Manbij from IS earlier this month, triggering concerns in Ankara that Kurdish forces would seize the entire border strip with Turkey.
The US says it has embedded some 300 special forces with the SDF, and British special forces have also been spotted advising the group, the Associated Press reported.
Jarablus, and its 11,000 inhabitants, have has been held under Isis rule for the last two years. Kurdish forces liberating Manbij were welcomed into the city as heroes.