Bashar al-Assad's Syrian Army has been accused, on numerous occasions, of dropping barrel bombs containing chlorine on a suburb of Aleppo, reportedly injuring 80 people. Helicopters were said to have dropped two bombs containing the banned substance in an opposition-held neighbourhood within the war-torn city.
Volunteer emergency workers in the northern city say people suffered breathing difficulties after an attack on the Sukkari area, with many requiring breathing apparatus following the strike, according to reports on Tuesday (6 September).
The reports of new chemical attak could not be independently verified by IBTimes UK, but the head of the Britain-based Syrian Observatory for Human Rights (SOHR) said 70 people suffered from breathing difficulties following the attack in Sukkari.
In August 2016, a UN-led investigation found the government had used chlorine on at least two occasions and German government representativ, Gernot Erler, urged UN sanctions against Syria.
On 11 August, at least four people were reportedly killed in a suspected chlorine gas attack in Aleppo. The gas, banned by the Chemical Weapons Convention, is believed to have been dropped on the city alongside barrel bombs during the incident, leaving 55 injured.
Despite the Syrian government always denying the use of chemical weapons, Syrian Civil Defence rescue worker Ibrahem Alhaj told the BBC that a helicopter dropped barrels containing what he said were four chlorine cylinders.
A report by The Guardian also noted that a medical report obtained from one of the hospitals in the besieged eastern part of Aleppo was shared with journalists. The document stated that at least 71 people - including 37 children and 10 women - were treated for breathing difficulties, dry cough, and that the clothes they arrived in smelled of chlorine.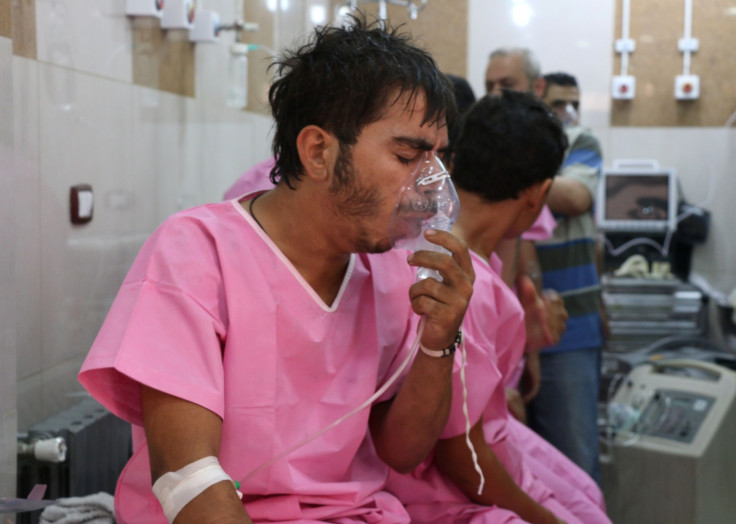 It is estimated that 300,000 Syrians now live under siege in what was Syria's most populous city and the Organisation for the Prohibition of Chemical Weapons (OPCW) confirmed last month that it repeatedly found traces of chlorine gas being dropped on civilians.
Assad had vowed to surrender all lethal toxins and nerve agents as they are banned under the Chemical Weapons Convention in 2013. The world's chemical weapons watchdog found Assad's regime responsible for two chemical attacks – one each in 2014 and 2015 – in the northwestern Idlib province.