Apple announced its latest financials on Tuesday and while the results were generally without major surprises, there were some interesting details which emerged.
Revenue, iPhone/iPad sales and revenue guidance were all largesly what analysts' had been expecting as Apple's typically quiet quarter lived up to its billing.
However, by reading between the lines, looking at the trends and analysing the comments from Apple's CEO Tim Cook we have pulled out the five important points to take away from Apple's latest financials:
---
iPhone is king
---
While Steve Jobs and Steve Wozniak built Apple as a home computer company, it is now undoubtedly a smartphone company.
While Samsung struggles to maintain sales, and Apple's own iPad line struggles, the iPhone just keeps on chugging along. Despite offering smartphones with screen sizes of just 3.5in and 4in, the iPhone continues to sell in the tens of millions.
With sales of 35.2 million in the three months to the end of June, the iPhone continues to contribute more than 50% of Apple's overall revenue.
Taken with the revenue the phones generate through App Store revenue, it is clear that this is going to be the most important product for the company for a long time to come.
It must be worrying for the likes of Samsung to think what will happen when Apple begins offering iPhones in sizes from 4.7in to 5.5in.
---
iPad's future success relies on business
---
The big disappointment from the Apple numbers on Tuesday was the fall in iPad sales compared to a year ago.
Last year's during the same period, iPad shipments fell 17% year-on-year to 14.6 million but those disappointing figures were put down to a reduction of 1.9 million units in channel inventory.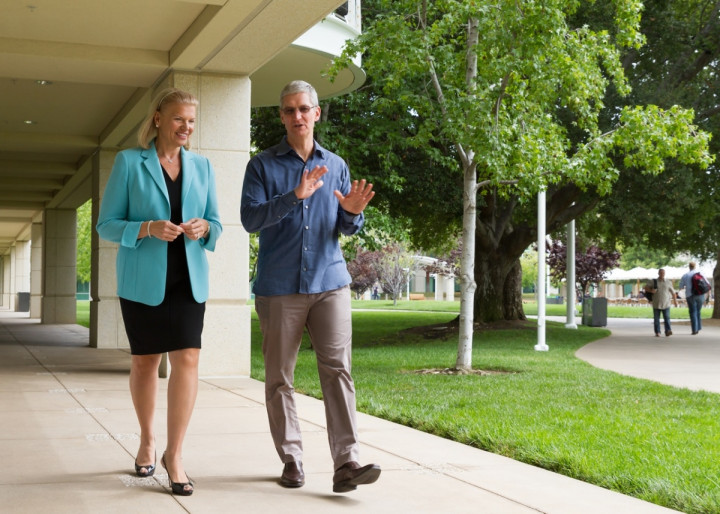 This year however there were no such excuses as iPad sales slipped to 13.2 million. While some commentators hailed this as the death of the tablet, Apple believes it just needs to look to other uses for its tablet.
Earlier this month Apple announced a partnership with IBM to help push the iPad as an enterprise tool with penetration in the US business sector just 20% according to Tim Cook.
Cook in the earnings call said he believes the "opportunity is huge" in relation to growth in business for iPad but it needed IBM's expertise and ability to create tailored apps to give that drive the kickstart it needed.
---
China growth continues apace
---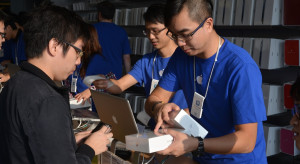 While some markets may be stagnating for Apple, China is certainly not one of them. In the three months to the end of June, Apple saw revenue from Greater China - which includes Hong Kong and Taiwan - rise by 28% year-on-year to $5.9 billion (£3.5bn).
Apple finally began selling its iPhone through China Mobile - the world's biggest mobile network with over 750 million subscribers - in January and the territory is now Apple's third-largest market after the Americas and Europe.
Speaking about the growth in China, Tim Cook said the growth was surprising and well past what the company had expected and he added that even more growth was predicted.
Considering the preference for larger screens among consumers in Asia, the launch of the larger iPhone 6 models later this year could certainly help drive this growth.
Speaking of which...
---
iPhone 6 launch dates are uncertain
---
While details of iPhone sales, earnings per share and the continuing decline of the iPod are all interesting to some, the one figure everyone was looking at was the earnings guidance for the current quarter.
The reason? It would give us an indication of what Apple was planning in terms of new product launches in the coming months.
Apple says it expects to earn between $37bn and $40bn in revenue in the three months to the end of September. In the same period last year, Apple earned $37.5bn.
Apple is widely expected to launch the iPhone 6 in late August/early September meaning that initial sales will be included in the current quarter's revenue.
Apple is clearly playing its cards close to its chest with its $3bn guidance range, which could indicate some uncertainty about when the new iPhone models will arrive. Some reports suggest the larger 5.5in model won't launch until later in 2014 or early 2015.
Cook in his comments did say that Apple was excited about "new products and services that we can't wait to introduce."
If Apple does manage to get both 4.7in and 5.5in iPhone 6 models launched and on sale in time for September, then it could be set to smash that $40bn estimate.
---
Where is Apple's long-rumoured television?
---
For the first time in a long time, Apple didn't address the long-running television question during its earnings call on Tuesday.
The main reason for this was that the analyst who ALWAYS asks the question about Apple's plans for TV - Piper Jaffray's Gene Munster - didn't get a chance to ask a question.
However it does highlights the fact that the rumour mill surrounding the mythical television set from Apple has gone eerily quiet in the last six months.
The last meaningful related report came in early February about Apple building up its networking infrastructure to give it more control over online services distribution which theoretically could pave the way for a bigger move into television.