Five Ukrainian Troops Killed as German Foreign Minister Lands in Kiev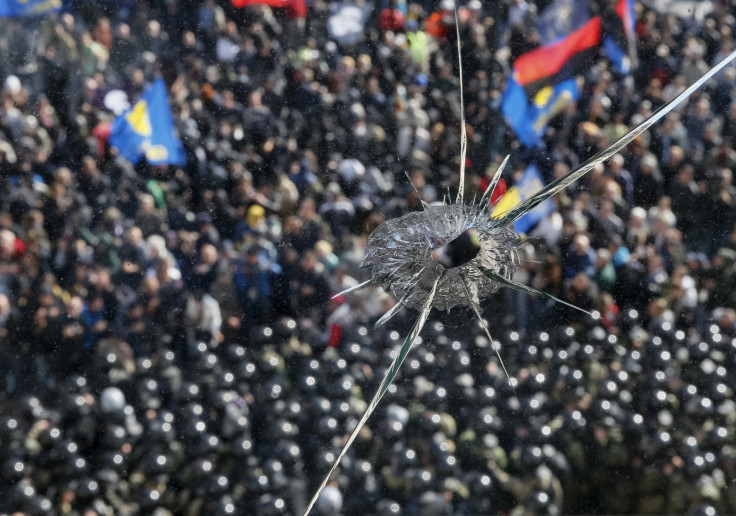 As the German Foreign Minister touched down in Kiev to hold crisis talks, the deaths of five more Ukrainian soldiers have been announced.
Frank-Walter Steinmeier is visiting both Kiev and Moscow to try to broker a lasting peace deal. His trip comes as violence and tensions escalated further in Eastern Ukraine. Russia stands accused by both the west and Ukraine of providing soldiers and weapons to assist the pro-Russian rebels, which is denied by the government in Moscow.
Before heading to Moscow Stenmeier will meet with Petro Poroshenko, the Ukrainian President, and Prime Minister Arseny Yatseniuk.
The ceasefire agreed in Minsk, Belarus on 5 September appears to be in tatters, with each side blaming the other for breaking the agreement. Reuters reports that 140 Ukrainian soldiers have been killed in the interim, with over 4,000 people dying since the conflict began in April.
The European Union has been vocally challenging Russia to withdraw its support for the rebel forces and to retract its acknowledgement for the elections held in Donetsk and Luhansk.
However, despite suggestions that new sanctions would be unveiled this week, EU foreign ministers were unable to agree on this at a meeting on 17 November. However, the ministers agreed to rollout further sanctions on Ukrainian separatists.
At the meeting in Brussels, the Ukrainian Foreign Minister called for more embargos. He said: "We need a real deterrent here in the sense of sanctions and in the sense of propping up and strengthening military capability. We are frightened, in the east of Ukraine, not only for Donetsk and Luhansk and not only for Ukraine, but also for the safety and security of the European Union."
In a written statement released after the meeting, the Council of the European Union reiterated the apportioning of blame to Russia, saying: "Alarmed by the recent heavy shelling and by reports about convoys moving in the separatist held areas with substantial amounts of heavy weapons, tanks and troops without insignia from across the Russian border, it urges all parties to fully implement the Minsk Protocol and memorandum swiftly and without further delay. It once again underlines the Russian Federation's responsibility in this context."
© Copyright IBTimes 2023. All rights reserved.