Wreckage from Malaysia Airlines MH17 which crashed in eastern Ukraine is being removed from the site and will be transported to the Netherlands as part of the investigation, Dutch officials have confirmed.
All 289 people aboard the Boeing 777 Amsterdam-to-Kula Lumpur flight died when the plane was apparently shot down over the Ukrainian conflict zone near Donetsk on 17 July. Western governments blame Russian-backed rebels for downing the plane, but Russia denies all responsibility.
Holland is leading the investigation as most of those aboard were Dutch nationals. The Dutch Safety Board (DSB) said in a statement that part of the aircraft would be reconstructed on arrival in Holland.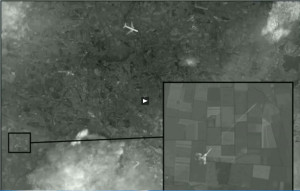 The DSB statement said: "The Dutch Safety Board commissioned the recovery and transportation to the Netherlands of the wreckage as part of the investigation into the cause of the crash of flight MH17. As part of the investigation the Dutch Safety Board intents (sic) to reconstruct a section of the aircraft.
"It is expected that the recovery operation will take several days, depending on the safety conditions and other factors."
The other factors are believed to include the difficulty of recovering the wreckage from the rebel-held area. Dutch experts arrived at the site last Tuesday but were unable to gain access because no deal had been reached with local commanders.
Last week Russian claims to possess a photograph showing an unidentified jet fighter shooting down flight MH17 were widely dismissed. If true the photo would disprove Western claims it was shot down by a surface air missile, such as a Russian Federation BUK system.
The Kremlin-owned Channel One TV broadcast an image, purportedly taken from a Western spy satellite which had been "hushed up" by western media.
The station claimed it had received the photograph from a Massachusetts Institute of Technology graduate called George Bilt.
However, online commentators soon list a number of suspicious aspects to the photograph, including the shape of both planes and surrounding clouds, and that a Malaysia Airlines logo seemed to be in the wrong place.
It was also revealed the image was first released, apparently by Wikileaks, in October – weeks before the letter by "Bilt" was apparently sent.
The photograph has been dismissed as a crude fake, both in Russia and across the world.
As wreckage from MH17 was being removed by emergency workers from Donetsk People's Republic, Russia's President Putin left the G20 summit in Brisbane, Australia apparently as a result of being cold-shouldered by other world leaders over the Ukraine crisis.