The season 1 pre-finale episode of The Flash will air next week and will feature an epic fight as Barry, Arrow and Firestorm team up to bring down the Reverse Flash.
Episode 22, which airs on 12 May on The CW network is titled Rouge Air, and this will set up the stage for the season finale.
In the previous episode, we saw Harrison Wells unleash the telepathic Gorilla Grodd to distract Barry and his team, but the Speedster is successful in saving everyone from the beast. Meanwhile, The Reverse Flash moves forward with his end game plan, which involves activating the particle accelerator.
Wells' end game plan in motion
In episode 21, Wells claims to have a "key" that brings him back to the future, which is a flash drive that jump-starts the particle accelerator.
The latest promo of the show also confirms this, as Cisco can be heard saying: "The accelerator has been re-activated."
The synopsis of episode 22 also claims that Wells (Tom Cavanagh) once again gets the upper hand on the STAR Labs team.
Captain Cold betrays Barry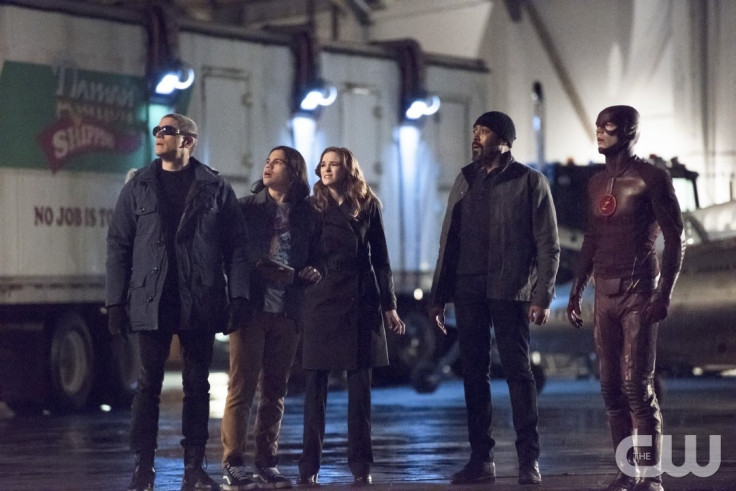 The synopsis further states that when Wells activates the accelerator, Barry worries that it would kill all the meta-humans, so he teams up with Cold, who will ultimately betray him.
The synopsis reads: "Barry (Grant Gustin) realizes he needs to make a big move and reaches out to an old foe, Captain Cold (guest star Wentworth Miller), for help. Joe (Jesse L. Martin) and Caitlin (Danielle Panabaker) warn Barry that Cold can't be trusted. True to form, Cold has his own agenda that involves the meta-humans trapped in the containment cells."
The new promo also shows, that Captain Cold sets the meta-humans free and they all start attacking the Flash.
Arrow and Firestorm
As things seem to be going from bad to worse, The Flash gets reinforcements – Arrow (guest star Stephen Amell) and Firestorm (guest star Robbie Amell). In the promo Harrison Wells is seen telling Barry, "You can't beat me", it is then that Firestorm and Arrow's Oliver Queen show up.
Oliver says, "Hope we are not too late..." And Barry tells Wells, "You cannot fight all three of us at the same time."
The time travel bandit has a smirk on his face and says, "This is going to be fun," as the video shows all three superheroes going head to head with the Man in yellow Suit.
The Flash finale
But the ultimate question remains, if Henry Allen's will be proven guilty. Will the battle lead Barry to time travel and save his mother?
Jesse L. Martin who plays detective Joe West dished on time travel and Barry's choice in the season 1 finale.
He told Variety, "We do approach the notion of time travel, and Barry's presented with a chance to save his mom, and the big dilemma is, if you go back in time and you change one little thing, of course that affects everything going forward, and he realizes that he may not have the life that he had growing up with us if he goes back."
Martin added, "So there's a huge dilemma as to whether it should happen or not, and of course, he turns to Joe and asks for advice. Joe's notion is that if he can make things right then he should. So the entire episode for the audience will be about whether or not Barry actually goes back and changes history."