Watch The Flash episode 21 online: Barry fights Gorilla Grodd; reason why Reverse Flash took Eddie will be revealed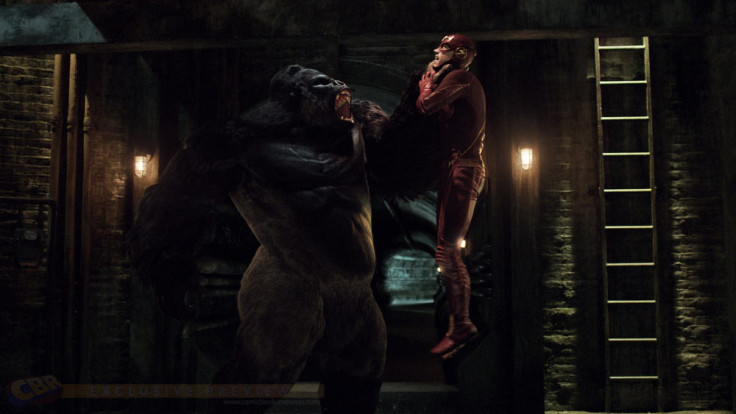 The Flash returns with an all new episode tonight, 5 May at 8pm on The CW Network.
Episode 21 is titled Grodd Lives, wherein the telepathic gorilla makes his debut on the show.
Click here to watch the episode online on The CW's website.
The official synopsis of the episode reads as follows:
Barry (Grant Gustin) must deal with the Reverse Flash's (Tom Cavanagh) latest threat to a member of the group. To make matter worse, Dr. Wells unleashes Grodd on the city in order to distract Barry and the team. Joe (Jesse L. Martin), Barry and Cisco (Carlos Valdes) head down into the sewers to catch Grodd but the gorilla quickly gets the upper hand after he kidnaps Joe. Iris (Candice Patton) and Barry have a heart to heart talk.
In the previous episode, Harrison Wells revealed himself as Eobard Thawne to the Star Labs team and kidnaps Iris West's boyfriend, Eddie Thawne. At the end of the episode titled The Trap, Iris finally discovers that Barry is the Flash.
Other than fighting Grood, Barry will also have to face Iris's confrontation in tonight's episode.
Candice Patton told Entertainment Weekly, "Iris is shocked. It's a huge revelation that her best friend has been keeping such a huge secret from her for so long. It comes out of nowhere that he's The Flash, and she's been meeting with him, and he's been keeping this secret for a very, very long time."
The actress also teased a lot of anger and hurt in episode 21.
Patton explained, "For the first time, we're going to see a side of Iris that we've never seen—seeing her angry and unleashing her emotions toward Barry, her father and everyone who has been keeping this huge secret from her. "
"It's a new side to Iris. She's finally getting a chance to say. This is not cool and I'm really hurt and angry. There's a lot of hurt and anger in Iris in episode 21," she added.
The Reverse Flash kidnapped Eddie in episode 20, and as seen in the trailer, Iris is worried that the man in the yellow suit might do something bad to her boyfriend.
But the real reason why the time travel bandit kidnapped Eddie will be only be answered in The Flash season 1 finale.
Candice Patton said, "We will find that out by the end of the season — and that's a really exciting plot point, so I don't want to give too much away. But we will find out more about why Reverse-Flash took Eddie."
While fans will have to wait to know whether Eddie turns evil, executive producer Andrew Kreisberg teased at WonderCon last month, "They will start to explore the police detective's villainous DNA," IGN reported.
© Copyright IBTimes 2023. All rights reserved.