The Flash returns with an all new episode today, 25<sup>th November at 8 pm ET on The CW.
The episode is titled, Power Outrage, where Barry Allen will battle two villains: Clock King aka William Tockman, and Farooq, a meta-human who is also known as Blackout.
Click here to watch the episode online.
The official synopsis reads:
The Flash (Barry Allen) goes up against Farooq aka Blackout (guest star Michael Reventar), a metahuman who can harness electricity. During their battle, Farooq zaps The Flash and siphons all his electricity, leaving The Flash without his speed. Dr. Wells (Tom Cavanagh), Caitlin (Danielle Panabaker) and Cisco (Carlos Valdes) work to reverse the effects on Barry, but their efforts are disrupted when Farooq comes banging on S.T.A.R. Labs doors in search of Wells, who he blames for his accident. Without Barry's powers to protect them, the group must figure out a way to save themselves from the metahuman. Meanwhile, Tockman (guest star Robert Knepper) manages a coup inside the Central City police department and takes several people hostage, including Joe (Jesse L. Martin) and Iris (Candice Patton). While Iris is sure The Flash will save them, Eddie (Rick Cosnett) has a trick up his sleeve.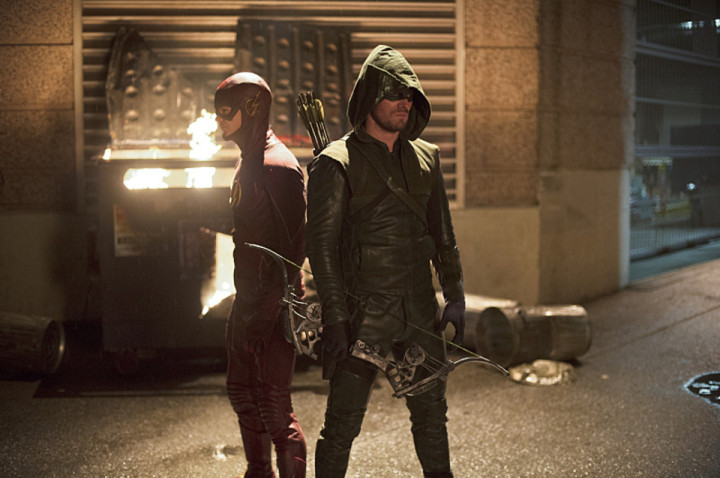 The CW network has announced that an extended sneak peek of next week's crossover episode titled Arrow Vs Flash will air tonight.
The crossover episode will pit DC comics heroes Arrow and The Flash against each other, in an epic two episode event.
The event will kick off on 2nd December with The Flash's episode titled Flash vs Arrow, and conclude the following day with Arrow's episode titled The Brave And The Bold.
Watch all the promos here.