The Flash midseason finale will finally answer the question, who is The Reverse flash?
Episode 9 is titled, The Man in the Yellow Suit, where Barry Allen will face the Reverse Flash, who killed his mother.
The synopsis released by The CW, gives a slight description that the villain in the yellow suit will make an appearance and teased a big life changing moment between Eddie and Iris.
According to the official synopsis, "Barry (Grant Gustin) finds himself face-to-face with his nemesis, the man in the yellow suit, aka Reverse Flash, who killed his mother. Barry is frustrated when the Reverse Flash escapes, but Dr Wells (Tom Cavanagh) and Cisco (Carlos Valdes) come up with a plan to trap him. All they need is bait, so they turn to Dr Tina McGee (guest star Amanda Pays) from Mercury Labs to help."
The synopsis also states, "It's Christmas at The West household and Iris (Candice Patton) is in full holiday cheer. Eddie (Rick Cosnett) gives her a surprising gift but leaves her with a question that could change her life. Joe (Jesse L. Martin) joins the search for the man in yellow and ends up in the crossfire."
Earlier, in episode 6, titled The Flash Is Born, fans got a glimpse of the Reverse Flash, warning Joe not to dig more into the death of Barry's mother.
The character of Harrison Wells is shrouded in secrecy, and after last week's episode it became even more complex than fans expected.
Is Dr Harrison Wells the Reverse Flash?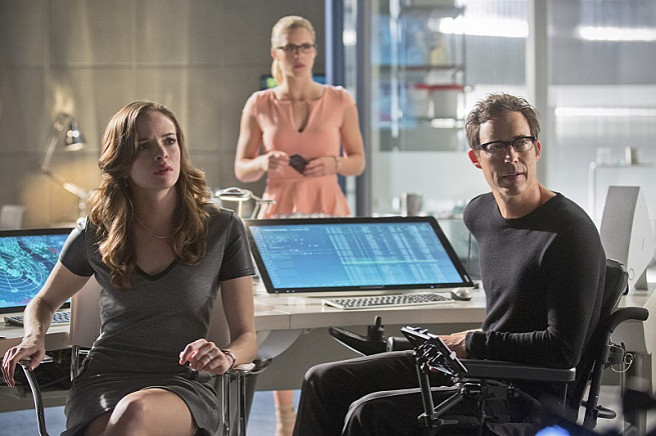 It is obvious that Nora Allen's killer is someone with Reverse Flash/Professor Zoom like qualities, and after last Tuesday's episode it is clear that Harrison Wells is hiding a pretty big secret.
Digital Spy speculated: "Consider Harrison's in-depth knowledge of upcoming events - which recalls Reverse Flash's comic book ability to travel in time - and then dismiss the story of his lost wife as a smokescreen or half-truth, and you'll quickly be led to the conclusion that Wells is probably responsible for Nora Allen's death and Joe's late-night scare."
The Flash mid season finale episode will air on Tuesday 19 December on The CW