Flash floods triggered by heavy rain have left four people dead in Germany and one in France. In the southern German region of Bavaria, an emergency is in place due to power outages and widespread chaos. The worst hit district in the southern region is Rottal Inn from where at least two people are missing.
Three people trapped in a house were found dead in the Bavarian town of Simbach am Inn, while many others were believed to be stranded on the ground floor of the building, according to police officials.
Police added that a drowned woman from nearby Julbach village was found hanging to a tree trunk in a stream.
Emergency services rescued 20 school students from the Regen river when a boat carrying them was struck by a storm, AFP reported.
According to reports, the river Seine in Paris burst its banks and flooded the riverside highways after four days of continuous downpour in Central Loire valley and the southeast region of Paris. Many promenades along the banks of the Seine were shut due to rising waters. The mayor's office predicted that the water level could rise by another metre in the next few days.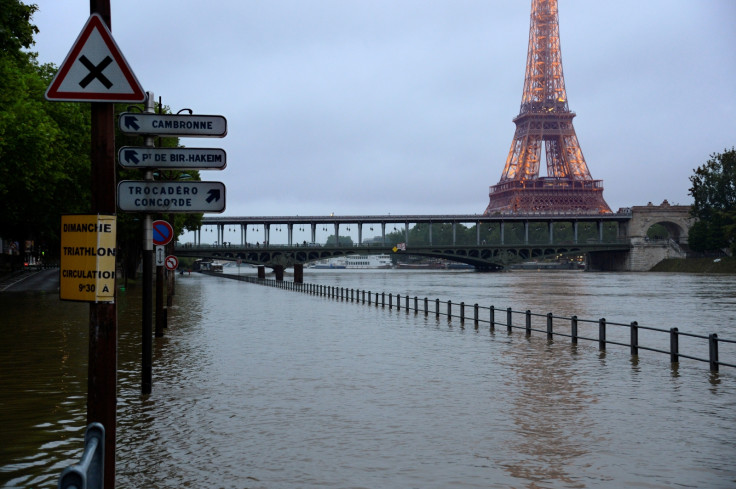 In Loire Valley, water pooled in front of a popular tourist spot, the Chateau de Chambord, a 16th century Renaissance castle.
People were evacuated from homes, schools and retirement homes in the town of Montargis, 110 km south of Paris.
An 86-year-old woman was found dead in her flooded house in Souppes-sur-Loing, in central France. It has been hit by the worst flooding in more than 100 years.
Residents from Nemours area, 50 km from Paris, had to be evacuated after the Loing river breached its banks. Prime Minister Manuel Valls is expected to visit the area.
Sylvette Gounaud, a resident of Nemours said: "In 60 years of living here I have never seen anything like this. The centre of the town is totally under water, all shops are destroyed."
The neighbouring Loiret region received an average six-week rainfall in just three days.
On the southeastern border that Bavaria shares with Austria, firefighters and emergency services were sent to rescue people from towns where bridges and roads have been cut off. A spokesperson for the Lower Bavaria regional police said: "The floods came so quickly that people had to escape to the roofs of their houses."
At least 25 adults and 50 children took refuge in a school in the town of Triftern on Tuesday night (31 May) and were able to leave the school only a day later. In the Salzburg region of Austria, several schools announced closures due to heavy flooding.
According to the BBC, low pressure over a wide area is the reason for heavy rainfall in many parts of Europe. Weather forecasters have predicted more heavy rain in the coming days.