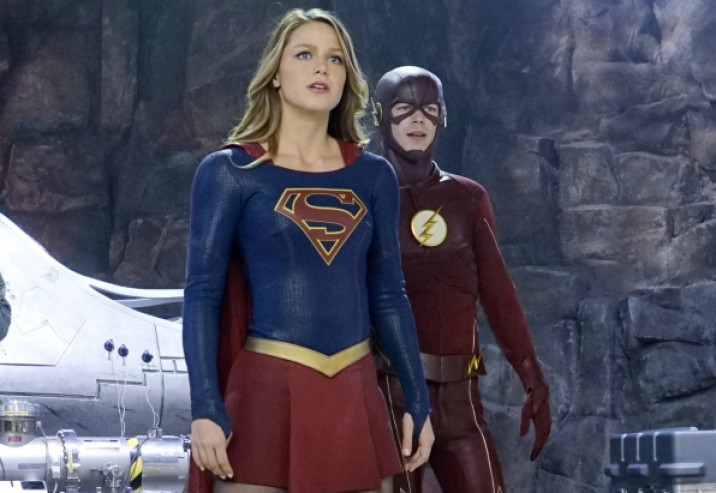 The Flash and Supergirl will team up for a musical episode, which might even feature a "dance sequence". Glee actors Grant Gustin, who plays Barry Allen in The Flash, and Melissa Benoist, who plays Kara Danvers in Supergirl, could be seen breaking a leg.
Executive producer Todd Helbing spoke to IGNabout the musical crossover and revealed that he would love to do a dance sequence. He said, "I mean, if we can get a dance sequence in there on top of it, I would love to do that. Listening to Joe as the lounge singer, singing, and to see Grant and he was karaoke-ing first season, and even watching Danielle, not being able to sing ... I'm just really excited, to be honest, to see how it all comes together."
Grant Gustin and Jesse L. Martin (who plays Joe West) have displayed their singing talents in The Flash, which encouraged the producer to pull this musical episode off. Helbing added "I know Greg [Berlanti] is very close to this story. He's been thinking about it -- I don't know how long, probably not just yesterday, you know what I'm saying? He's been percolating. Seeing Jesse sing, seeing Grant sing, it's just one of those -- like whoa, we can totally pull this off. I don't know why we wouldn't do this. Let's go for it. This year in general we're really swinging for the fences."
Previously, executive producer Ali Adler, who attended The CW's Television Critics Association summer press tour, said, "When they're not acting or flying or punching or exploding things, they're singing," of Gustin and Benoist.
The Flash season 3 premieres on 4 October and Supergirl season 2 is set to premiere on 10 October on The CW network.