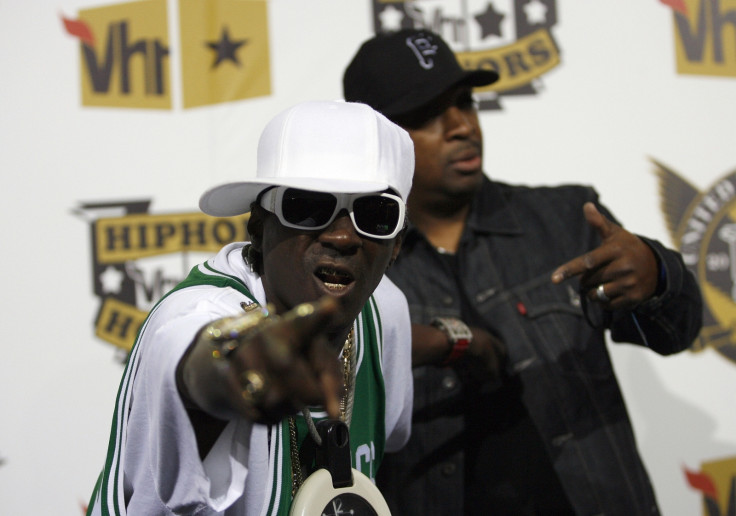 Flavor Flav was badly beaten by a man inside a Las Vegas casino on Tuesday (23 January). A video obtained by TMZ shows the stranger punching the rapper mercilessly next to the slot machines at the South Point Casino.
Flav is seen already on the ground as the stranger continues to carry out his beat-down, throwing some serious punches to the face and the body of the 58-year-old.
A burly man, who appears to be a bodyguard, intervenes and tries to pull the man off Flav, yelling, "Stop it!" The heavy built man successfully removes the man dressed in a black T-shirt and pants off Flav, who is once again dropped to the ground as the man delivers yet another vicious haymaker to the rapper's face.
Next, the burly man, who stopped the attack on Flav, points out the attacker to the security guards. The man - later identified as Ugandi Howard - puts up a big fight before the security guards take him into custody.
Flav has reportedly told police that Howard accused him of disrespecting his mother before carrying out the vicious attack.
"William Jonathan Drayton Jr., AKA Flavor Flav, was a victim of a battery at the South Point Casino on Tuesday, Jan. 23," Officer Larry Hadfield of Las Vegas Police was quoted as saying by the publication.
"The suspect, Ugandi Howard was cited and released. Flavor went to the hospital but did not sustain any substantial injuries and was released. It is a misdemeanor battery so the suspect will have to go to court," the officer added.