Air travel may be set to become a radically new and enjoyable experience as Airbus has revealed a vision for the future where cabins could replace rows of seats for gyms, coffee bars, children's play areas and yoga studios.
The utilitarian nature of the commercial passenger plane means there's not much room for extravagant on-board amenities but a new concept from the aviation manufacturer called "Transpose" would allow airlines to customise cabins for each flight using modular technology. Airlines could chop-and-change the interior setup in a matter of minutes, transforming cabins at each airport before they take off to suit how busy the flight is.
This could mean that a long-haul flight could be kitted out with sleeping pods or a gym to allow passengers to get their exercise fix, whereas a shorter flight could have a bar or coffee shop for quick business catch-ups. One suggestion that'll be music to the ears of parents and passengers is the prospect of a soundproof children's playroom where kids could be amused and get their kicks with a soft play area rather than the back of your seat.
The concept is being developed by an Airbus off-shoot called A<sup>3 who detailed how the vision could become a reality as it would use a similar roll-on, roll-off process to current cargo aircraft where large pallets can be loaded through cargo doors. While current passenger aircraft do not have such doors, Airbus explained how they want to create modified, cargo versions of its A330 aircraft rather than spending time and money developing a whole new type of plane to accommodate the modular cabins that can be slid into placed and locked down.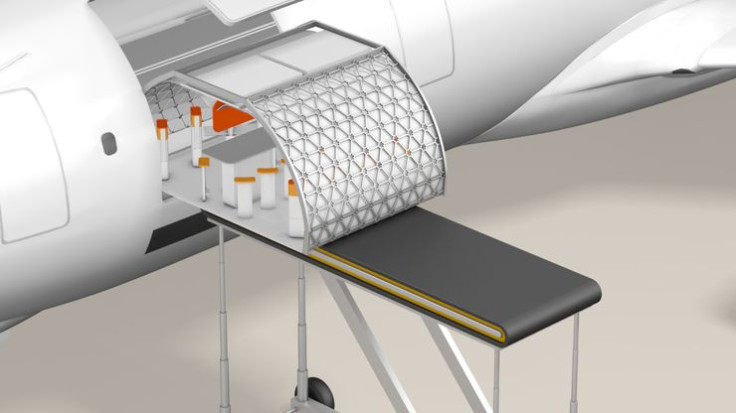 One disadvantage of this design would be the lack of windows for passengers, however Airbus has come up with a solution for that too by claiming it would install OLED displays as video walls to project the outside world into the cabin.
A<sup>3 is currently building a mock-up, 150ft, cabin kitted out with some modules to demonstrate the concept with the aim to take the idea airborne on test flights within the next three years.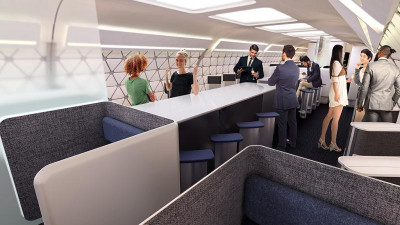 However, before we get too excited about the prospect of long-haul flights of fancy there's a reason why aircraft seating arrangement has barely changed from its front-facing configuration since the commercial aviation industry began. Airlines have gone to exhausting efforts to squeeze in as many seats as possible to maximise efficiency and profit, all the while having to arrange seating around wiring, galleys and bathrooms.
A<sup>3 admits it will be a challenge to convince operators to swap seating for indulgent in-flight experience cabins but they raise the point that it could be a potential money-maker from partnerships or charging passengers for the privilege of enjoying a mile-high yoga class.
"There are a lot of tough nuts to crack," said Jason Chua of A<sup>3. "We need to show airlines that this is something that has a viable business model for them. They need to know if they invest in an aircraft like this they will be rewarded on the revenue side."
"It is not just about people sitting on an aircraft. It's about creating some more-revenue-dense experiences, such as dining, that harness a willingness to pay comparable with what they would spend on the ground."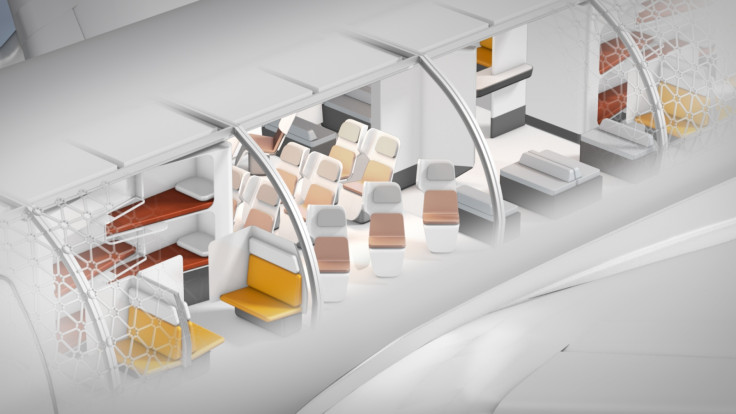 It may sound pie-in-the-sky at the moment but A<sup>3 continues to develop the technology by drawing on collaborations from experts outside the aviation industry including automotive and consumer technology sectors in the hope it will take-off in the near future. Even if we may not ever see the dream of soundproof playrooms or restaurants the modular idea may give operators food <sup>for thought for more flexible seating configurations.