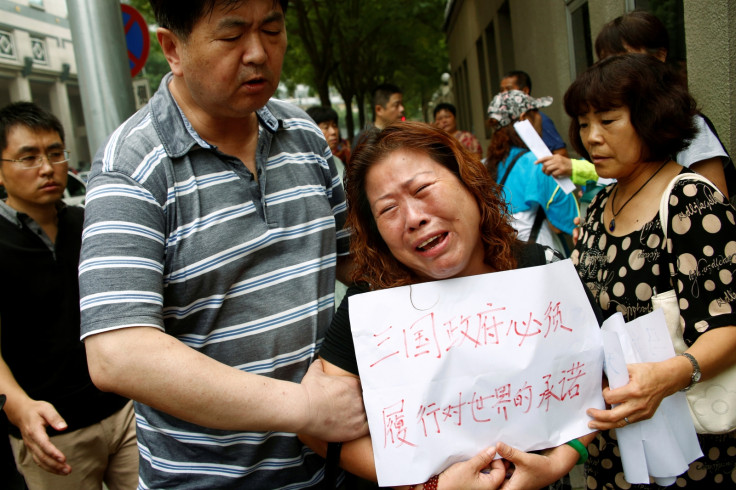 Chinese family members of passengers on board the missing Malaysia Airlines flight MH370 staged a protest outside China's Foreign Ministry today (29 July), calling on governments not to abandon the search for the plane. China, Australia and Malaysia announced last week that the more than two-year search would be suspended once the current search area in the Indian Ocean is completed.
According to the Associated Press, protesters gathered outside the ministry in Beijing and demanded to see the "irresponsible" foreign minister in order to give him a petition that condemned China, Australia and Malaysia's move. The protest came on the same day that Australian officials announced that a flight wing found last month off the coast of Tanzania is "highly likely" to have come from the missing MH370.
The search is expected to come to an end after officials from the three countries met last week to discuss the situation. MH370 relatives in Beijing held handwritten placards calling for the search to be continued and demanding to meet the people involved in the decision to suspend the search.
Jiang Hui, whose mother was on the plane, told AP: "Since these people spent the money of Chinese taxpayers to represent Chinese relatives to attend the meeting, they are obliged to see us. We will continue to demand the meeting because we want to know the most accurate information of what was going on in that meeting."
Several pieces of the missing aircraft have washed ashore in different locations across the southern Indian Ocean since it disappeared on 8 March 2014 with 239 people on board. Although officials now believe that the plane did go down in the Indian Ocean, no clues have been found as to exactly where it went down or why the aircraft crashed.
Many believe that MH370, flying from Kuala Lumpur to Beijing, was deliberately steered into the ocean based on the fact that the flight turned back west and then south before crashing. Officials were hoping to locate critical flight data recorders or black boxes that could provide some answers, however, as the search is due to end by December it is likely that the black boxes might never be retrieved.