The co-pilot of Malaysia Airlines Flight MH370, Fariq Abdul Hamid, attempted to make a call from his mobile phone minutes after all other communications with the aircraft were ended, local media have reported. However, sources close to the investigation have played down the claim.
According to the New Straits Times a telecommunications tower picked up Hamid's signal as the Boeing 777 flew at a low altitude over Penang, off Malaysia's west coast – but the call ended abruptly.
The identity of the person Hamid was allegedly trying to call is apparently known but is not being released "as sources chose not to divulge details of the investigation". However, last week Hamid's Cousin Nursyafiqah Kamarudin, 18, told the New Straits Times that the pilot was very close to his mother:
"If Fariq could make one call before the plane disappeared, it would have been to her."
Mobile phones can be connected when a plane is flying below 7,000 feet. Sources believe the call ended when the aircraft – carrying 227 passengers and 12 crew, including the two pilots - flew out of the tower's range. Shortly afterwards Flight MH370 veered off-course for reasons which have yet to be established.
It has also been revealed that Hamid, aged 27 when the plane went missing – his birthday is on 1 April - sent a message to a regular contact via the WhatsApp messenger app shortly before boarding the plane. Connection was then "detached" prior to take-off.
The source is quoted as saying: "This is usually the result of the phone being switched off. At one point, however, when the airplane was airborne, between waypoint Igari and the spot near Penang (just before it went missing from radar), the line was 'reattached'."
However the source appears to play down claims that Hamid attempted to make a call: "A 'reattachment' does not necessarily mean that a call was made. It can also be the result of the phone being switched on again."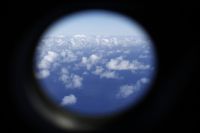 Malaysian police are investigating the plane's baffling disappearance under Section 130C of the Penal Code and as yet neither the passengers nor crew have been cleared of possible foul play. Statements have been taken from hundreds of people linked to everyone aboard.
The criminal investigation is independent of the search for the missing plane, which is now believed to have crashed into the Indian Ocean 1,450 miles west of the Australian city of Perth, thousands of miles from its scheduled destination in Beijing.
After signals were picked up apparently from the plane's black box an Australian defence vessel - Ocean Shield – is carrying out focused sweeps of an area of 15,982 square miles in an attempt to locate their source before the batteries go completely flat, reducing the chances of finding the plane.