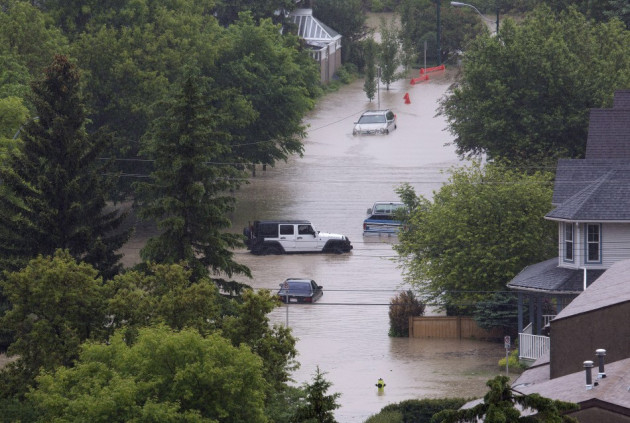 Three people have been killed and more than 100,000 evacuated from their homes after rivers broke their banks and floods struck Alberta in western Canada.
Waters from the swollen Bow and Elbow rivers that run through the province's capital Calgary swept away cars and bridges and left roads impassable after a rainy week was capped by a 4in (10cm) downpour on Thursday.
Canada's Prime Minister Stephen Harper, who toured the area on Friday, called the level of flooding "stunning".
"This is incredible. I've seen a little bit of flooding in Calgary before. I don't think any of us have seen anything like this before. The magnitude is just extraordinary," he said.
"We're all very concerned that if gets much more than this it could have real impact on infrastructure and other services longer term, so we're hoping things will subside a bit."
About 75,000 residents of the city have been forced to flee their homes, with 25 neighbourhoods being evacuated.
Military helicopters have rescued people from the roofs of their homes in areas near the city and 1,500 people are staying in emergency shelters.
The floods have also struck areas of the Rockies south to Lethbridge.
Royal Canadian Mounted Police sergeant Patricia Neely said three people had died and two bodies had been recovered.
She said the bodies recovered are of two men found in the Highwood River near High River, about 40 miles (64km) south of Calgary, on Thursday.
More than a dozen towns have declared states of emergency. Entire communities, including High River and Bragg Creek, near Calgary, are under mandatory evacuation orders.
Canmore resident Wade Graham told CBC he woke up at about 3am Thursday to a rumbling sound "and it was the creek".
"At first it was just intense, pretty powerful, amazing thing to watch. As daylight came, it just got bigger and bigger and wider and wider, and it's still getting bigger and bigger and wider and wider.
"All you can hear is like boulders and trees. I watched a refrigerator go by, I watched a shed go by, I watched couches go by. It's insane."
The rink of National Hockey League's Calgary Flames is 10 rows deep in water, and lions and tigers from the city's zoo may be transferred to courthouse cells if the waters become deeper.
Calgary Mayor Naheed Nenshi said the water levels have reached a peak, but have not declined.
"We've sat at the same level for many, many hours now," he said.
"There is one scenario that would it go even higher than this, so you'll either see the Bow river continue at this level for many hours or you will see it grow even higher and we're prepared for that eventuality."