A cross-code boxing match between Floyd Mayweather Jr and Conor McGregor is a step closer to fruition after Ultimate Fighting Championship (UFC) president Dana White confirmed a major hurdle in negotiations has been cleared. The clash between the unbeaten American and the MMA superstar has been in the offing for many months, but discussions between both fighters have been held up.
McGregor is expected to make $75m (£58.2m) from the fight and the UFC, to whom the Irish fighter remains contracted, wants a slice of his earnings – having assisted in building his profile. 'The Notorious' has grown into one of the biggest sports stars on the planet, helped by his sensational knockouts and public bravado.
Though the exact split the UFC have demanded from McGregor is unknown, White has been said to want as much as 50% from the lightweight champion. Nevertheless, those talks have reached a resolution meaning White can now begin talks with the team representing Mayweather – who has been eagerly awaiting any agreement.
"We're right there to get this deal done," the UFC chief told ESPN. "I'd like to get it done and start negotiating with Team Mayweather. If that can get done then we'll get it done and if it can't I need to move on.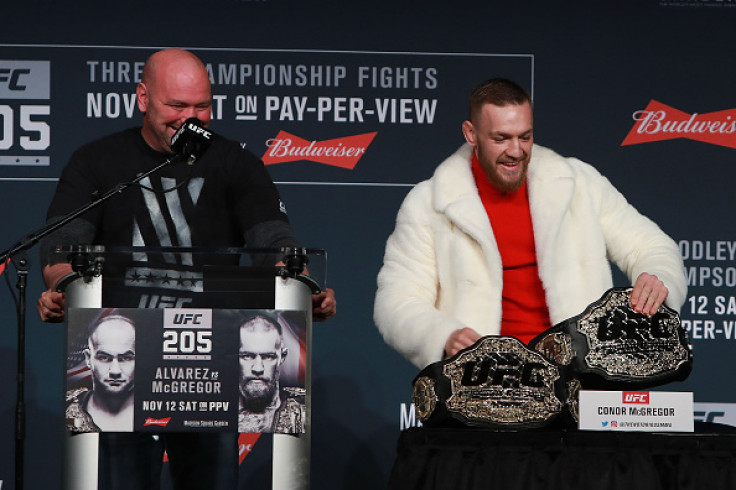 "Conor and I have agreed on a deal. Then you get a bunch of lawyers involved and it gets stupid. As soon as it is done we go to work. It will be me and [Mayweather advisor Al] Haymon.
"It's either going to happen this year or it's never going to happen at all. This isn't something I'm going to spend a bunch of time on and dedicate the next three months of my life to. Conor wants to fight twice this year and one of those fights to be Floyd if possible."
Mayweather is demanding at least $100m to come out retirement to and improve on his unbeaten record of 49-0. The 40-year-old has been inactive since beating Andre Berto in September 2015, while McGregor himself has not fought for six months after his win over Eddie Alvarez last November.