Floyd Mayweather Jr has goaded Manny Pacquiao ahead of their potential showdown in 2015 with a mischievous reminder of the Filipino's brutal knockout suffered against Juan Manuel Marquez two years ago.
Calls for a long-awaited meeting between the welterweight kings have heightened following Pacquiao's emphatic win over Chris Algieri in Macau on Saturday 22 November.
"The people deserve that fight," Pacquiao said after the 57<sup>th victory of his 64-fight career. "The fans deserve that fight.
"It's time to make that fight happen. It's been a long time. I want that fight. They're always denying the fight. I think the fight has to happen."
Pacquiao's promoter and Top Rank CEO Bob Arum has fuelled speculation further after claiming he is set for talks with Mayweather's television network Showtime in order to thrash out a deal.
Mayweather, meanwhile, has remained silent in the face of fresh speculation but has not shied away from mind games with his potential opponent, posting a video on his Instagram account of Pacquiao being knocked out in devastating fashion by Marquez in 2012.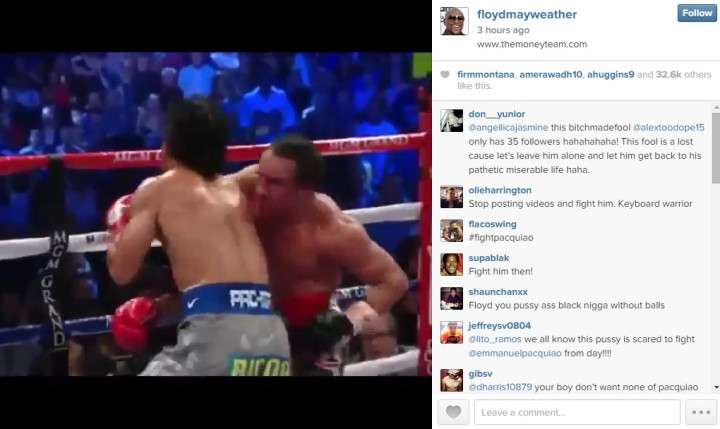 In what was his fourth encounter with the Mexican, Pacquiao took a powerful right that ended the contest in the sixth round. The Filipino would go on to lose his next fight to Timothy Bradley later that year, the first time in his career he has suffered consecutive losses.
Pacquiao has since recorded wins against Brandon Rios, Bradley in a rematch and Algieri, and maintains a showdown with Pacquiao is his last remaining career goal.
Previous efforts to get the pair in the ring together have been derailed by demands for Olympic-style drug tests and the split of the fight's purse, not helped by Mayweather's refusal to do business with Arum.
With Mayweather mulling over retirement in September 2015 when his contract with Showtime expires, latest talks over the fight has a deadline but Arum remains hopeful an arrangement can finally be thrashed out.
"All this nonsense has to cease, everyone should be working together to make the fight happen," Arum said, Boxing Scene report.
"There is no excuses anymore, none. Every place we go, they ask us when that fight is going to happen. Enough is enough, let's just make the fight happen, let's get it done and make it the next fight for each fighter, sometime in the first six months of next year."