Floyd Mayweather v Manny Pacquiao: What they said and what we learned at the LA press conference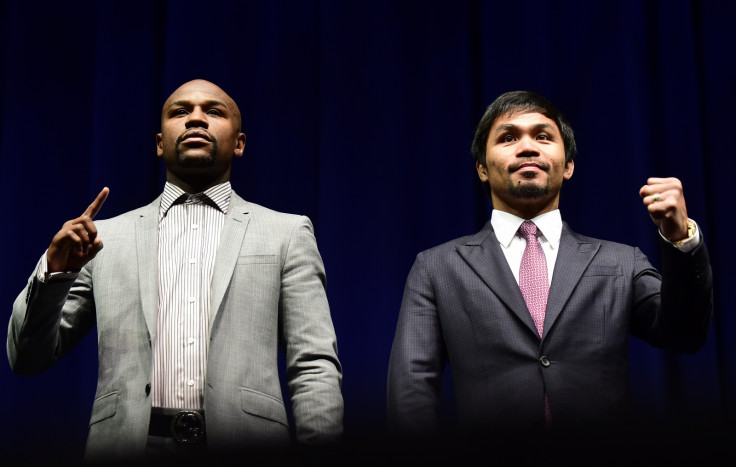 Miami Heat meeting was just as important as we had hoped
The first ever face-to-face meeting between Manny Pacquiao and Floyd Mayweather took place courtside during Miami Heat v Milwaukee Bucks in January. Their brief conversation followed by an exchange of phone numbers inevitably sparked rumours that the welterweight kings would sit down without the presence of advisers in a fresh attempt to get the deal done.
And after years of complications between networks and promoters, it was that one-on-one meeting at the American Airlines Arena that saw real progress made, so said Leonard Ellerbe, CEO of Mayweather Promotions. He said: "I'd like to thank Floyd and Manny for the role they played in making this happen – that meeting in Miami was a major milestone."
Those behind the scenes never gave up hope - even when some of us did
For five years, it seemed we were kidding ourselves in believing this fight would take place. The reasons for it to fail far outweighed those for it to succeed, whether it was the demands for Olympic-style drug testing, disputes over the split of the fight's purse or just the sheer weight of the egos involved.
Hindsight is a beautiful thing but it is reassuring to know those behind the scenes never gave up hope of this happening. "We are not at all surprised that this fight is happening," Stephen Espinoza, executive vice-president of Showtime Sports, said. "As soon as we closed our deal with Floyd back in 2013, the Pacquiao fight was a top priority both for us and for Floyd.
"Whenever it was time to discuss a Mayweather opponent, Manny Pacquiao was always high on Floyd's list. And again that is no surprise to us, we've known for at least eight years now that Floyd has wanted the Pacquiao fight pretty badly."
Boxing's big night
They were scenes more reminiscent of Oscar night than a press conference for a boxing match. The lavish red carpet, the assembled press that saw more than 700 media credentials issued, the expensive suits and global attention... bear in mind this was a straight forward press conference, not a weigh-in.
The attention the first official meeting of Mayweather and Pacquiao garnered was another indication that this is something transcends the sport. Initial suggestions of a gross of $250m (£167m), already a boxing record, for the fight continue to soar, with an eye watering figure of $350m (£234m) now being touted. Tickets are expected to cost from between $1,500 to $7,500, with ringside seats expected to be sold for $75,000 at the MGM's discretion. And make no mistake, that 16,800 seat arena in Vegas will be sold out in seconds.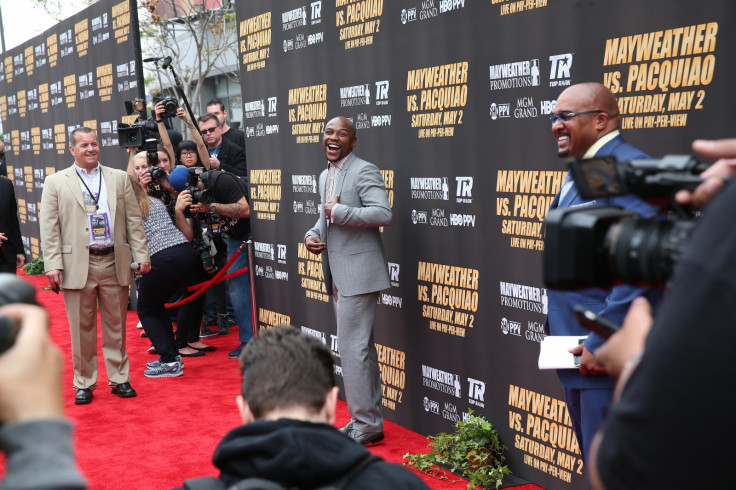 Arum-Mayweather war over
One of the gravest threats to this fight ever taking place was the long-running stand-off between Mayweather and his former promoter, Bob Arum. In 2006, the unbeaten American paid $750,000 to get out of his contract with Arum and Top Rank, claiming he failed to be fully paid for fights dating back to 2005 with Arturo Gatti and in 2006 with Zab Judah before he became the transcendent giant of the sport he is today.
The spat simmered ever since and in 2013, Mayweather promised the Pacquiao fight would never happen as long as the Filipino's ties with Arum remained intact. At a glance, confirmation of the 2 May showdown suggested peace had finally been made between the two former partners, with Mayweather thanking Arum for his role in getting the deal done.
He said: "Stephen Espinoza, I want to thank you, Richard Stern I want to thank you, Bob Arum, Team Pacquiao because without everyone together we couldn't have made this fight happen so I have to be thankful for us coming together as one so that we can give the world what they want to see: Mayweather v Pacquiao."
Mayweather mind games
All in all, it was a gracious evening. Both fighters were eager to dish out thanks to all parties involved with the sort of trash-talking that can define these occasions absent throughout. Mayweather, though, whose penchant for gaining a psychological advantage remains one of his greatest strengths, managed to subtlety underline the reason why he is the narrow favourite; his flawless 47-0 record compared to Pacquiao's 57-5.
He said: "I know one thing about sport, and if you lose, it is in your mind. I have always been a winner."
© Copyright IBTimes 2023. All rights reserved.