Floyd Mayweather vs Conor McGregor post-fight reaction: 'We broke all the pay-per-view records'
KEY POINTS
Mayweather defeated McGregor on Saturday night's (26 August) highly-anticipated bout.
The big-money boxing fight was expected to break pay-per-view records.
Both Mayweather and McGregor spoke about the fight and their future.
Floyd Mayweather says his money fight with Conor McGregor lived up to all expectations and broke the previous pay-per-view record that he shared with Manny Pacquiao.
Saturday night's (26 August) big boxing main event resulted in "Money" defeating the Irishman via a 10th-round stoppage in a fight that ultimately did not disappoint fans.
McGregor had a promising start but soon faded as he started to fatigue, with Mayweather unloading on him with punches as referee Robert Byrd stopped the fight.
The highly-anticipated bout, which will see both Mayweather and McGregor earn nine-figure pay packets, was expected to break the record of 4.6 million pay-per-view buys set by the former five-weight champion's fight with Pacquiao in May 2015.
And according to Mayweather, it did just that.
"We broke all the pay-per-view records," he said at the post-fight press conference. "You will never see me in the ring again. I wanted to break records and do different things. And tonight we broke the Mayweather-Pacquiao record for pay-per-view buys."
Mayweather also spoke about the fight in more detail and was happy that he was able to give the fans a show after the disappointment of his highly-hyped fight with "Pacman".
"I was coming straight ahead, I was going to take some contact," he explained. "I could have boxed and counter-punched and made it boring, but this was for the fans. We were always going to let him throw big shots early on and then get him down the stretch, just like I always do.
"It took us a little longer than we expected. But I guaranteed you I was going to score the knockout. In 21 years in the sport of boxing, I had some great fights and some boring fights, but I will always go down as a winner and someone who could dissect fighters and follow the game plan," Mayweather added.
"McGregor's power was solid. I've been out for two years, and I told you all I'm not the same fighter. It wasn't the type of power to dissuade me from coming forward. Otherwise, I wouldn't have come forward."
The unbeaten boxer, who retired after the fight, also revealed that he did not spar for the last month as he suffered an injury but praised the "Notorious" as he surprised him in the ring.
"I didn't do any sparring for the last month," he added. "No excuses, he fought a hell of a fight. But I broke him down. He was a hell of a fighter standing up, he kind of shocked me."
"It was an injury [why I didn't spar] and I wanted my hands to be 100 per cent. I wanted to able to hit him hard."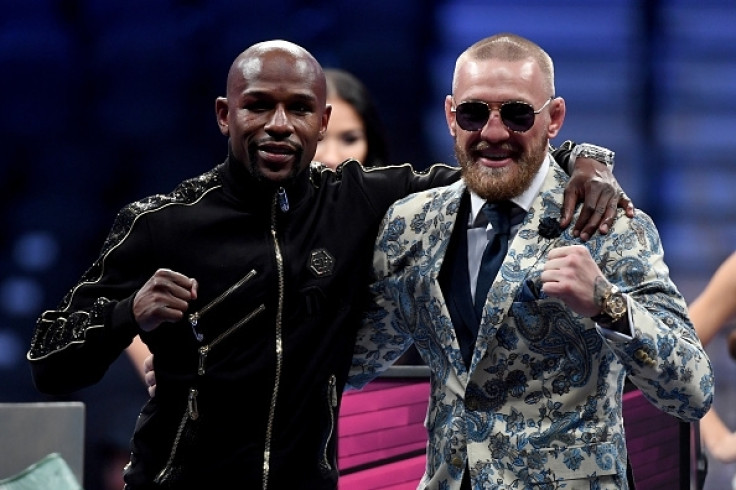 As for McGregor, he was in high spirits despite the loss, as he arrived for his post-fight press conference wearing a suit, sunglasses and drinking whiskey.
Heaping praise on Mayweather, the 29-year-old also believed that he could have kept going past round 10 but respected the referee's decision.
"I thought I smoked him in the early rounds," he stated. "But he's so composed. I won the first three rounds clearly, and I thought I was five-four down. There were three game changes he performed in the fight and that's what a true champion does.
"I should have seen the end of round 10. I go through a patch where I get fatigued and then I come back. But the referee did an amazing job.
"One of the main things in camp was going from five rounds to 12 rounds. In all of my spars, when I got to round six, I was like 'f**k' and I couldn't see where the end was. But then I'd get it back by round 10. That's why I wish they would have let the fight continue, and I could have got a second wind," McGregor explained.
"He picks his shots very well. I believe he was hurt a few times but he hides it well. I enjoyed it though. It was a bit of fun. It was a great contest. A lot of stuff I'll take with me."
As for where his future lies, McGregor once again spoke of the many options that he has at his disposal now.
"There are options and titles in MMA but I might stay in the boxing game. I've enjoyed studying the sport and I will take a lot from this fight.
"This was some buzz, to come here and fight Floyd Mayweather. I enjoyed the whole experience. There are options in MMA, and there will be options in boxing, I'm sure. I love competing, and I love a good fight, and this was a good fight. I don't know what's next, but something will be next," he said.
© Copyright IBTimes 2023. All rights reserved.