The Rwandan government has condemned the arrest of its intelligence chief Karenzi Karake, who is accused of having committed war crimes during the 1994 Rwanda genocide.
Karake, a member of paramilitary organisation and now Rwanda's ruling party, Rwandan Patriotic Front, was arrested in London earlier in June and was granted a conditional bail by the Westminster Magistrates court.
Rwandan Patriotic Front
The Rwandan Patriotic Front (RPF) was formed in 1987 by Tutsi refugees who had fled along with their families to Uganda due to ethnic violence.
In 1990, RPF's armed wing, Rwandan Patriotic Army (RPA), invaded Rwanda and fought against troops loyal to President Juvénal Habyarimana, triggering the Rwanda civil war.
RPA's leader, Fred Gisa Rwigyema, was killed shortly after prompting the RPA to retreat and regroup under Paul Kagame. The warring sides engaged in peace negotiations and reached a ceasefire, which was broken when Habyarimana died in a plane crash on 6 April 1994, leading to suspicions that he had been killed by the Tutsi.
The death of the president sparked the genocide, during which the RPF fought against Hutu extremists and those loyal to the interim government, which had ordered the killing of the Tutsi.
The RPF took control of the country in July 1994 and Pasteur Bizimungu became president. He stayed in power until 2000, when he was succeeded by Kagame.
The role of RPF during the genocide is controversial. The group defeated Hutu extremists who were carrying out the genocide, but it has also been accused of killing, sometimes indiscriminately, Hutus and Tutsi.
In 2008 he was indicted by a Spanish judge who alleged that the 54-year-old ordered political assassinations and massacres between 1994 and 1997.
A report by Human Rights Watch also accused Unamid (African Union – UN Mission in Darfur) troops under the leadership of Karake of killing an estimated 760 civilians in the Congolese town Kisangani while fighting Ugandan soldiers in 2000. He is also accused of ordering the killing of three medics from the NGO Médicos del Mundo.
The Rwandan government said the UK treated Karake as an "illegal immigrant".
President Paul Kagame said in a statement: "They must have mistaken him for an illegal immigrant. The way they treat illegal immigrants is the way they treat all of us," he said in a statement.
"Black people have become targets for shooting practice. It is history repeating itself in a different form. It is a continuation of slavery, of colonialism, of violence and bigotry. We cannot accept that people treat us this way just because they can."
IBTimes UK spoke with human rights activists David Himbara (who worked as Kagame's principal private secretary from 2002 to 2006) and Rene Mugenzi, about the spy chief's arrest and the state of democracy in Rwanda
Democracy in Rwanda
Nearly 4 million people are believed to have signed a petition demanding Kagame run for a third term in the 2017 election.
Reports have alleged that many Rwandans have been forced to sign the petition and that restrictions of freedom and persecution of political opponents are escalating in the country.
The NGO Reporters without Borders said that Rwanda's decision to indefinitely ban the BBC in the country is part of a plan to crackdown on media in the run up to the 2017 election.
The BBC was banned following a controversial documentary alleging that Rwanda's ruling party, Rwandan Patriotic Front, committed war crimes during the 1994 Rwanda genocide.
In a previous interview with IBTimes UK, RPF Vice President Christophe Bazivamo said: "I think it is not possible to force 3.6 million people to sign a petition. People who have signed were actually happy to do so. It's not possible to force people to sign and to also make them happy.
"The population signed the petition because of facts. We achieved goals when it comes to child and maternal mortality. When it comes to security and social economic development, from 1994 until now, the situation has improved.
"Why do people think negatively when it comes to Rwanda? People should come and see and discuss with the population face-to-face to discover which is the real situation.
"The population is happy with what has been done. It is not about thinking, I am a witness and I know what is happening here."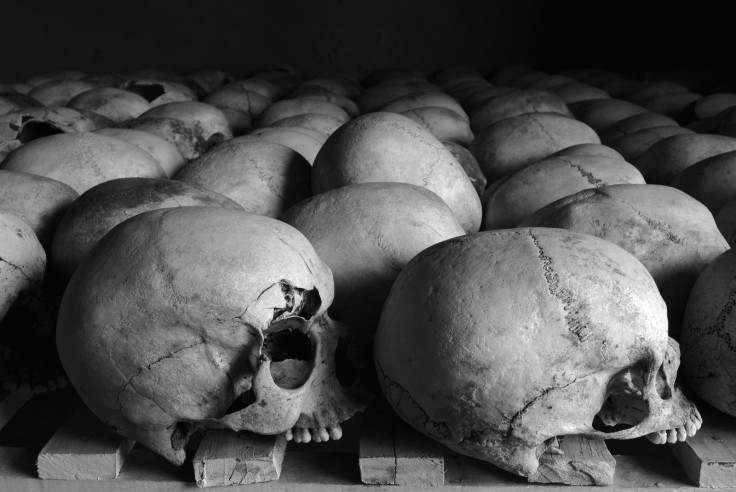 Rwanda genocide
Tensions between Hutu and Tutsi ethnic groups started with the Belgian colonisation in 1922. The colonisers supported the Tutsi political power and exacerbated ethnic differences between Hutu and Tutsi by introducing the compulsory use of identity cards.
After a Hutu revolution led to the 1962 declaration of independence and the establishment of the Rwanda republic, led by the MDR-Parmehutu, the country was rocked by sporadic violence between the Hutu government and Tutsi rebels.
In 1990 the Rwanda Patriotic Front (RPF), formed by Tutsi refugees who had fled along with their families to Uganda due to ethnic violence in the previous years, invaded Rwanda, starting the Rwanda civil war.
The conflict lasted until 1994, when the genocide against the Tutsi was sparked after suspicions spread that the Tutsi had carried out an attack against the then Hutu president Juvénal Habyarimana, who died together with Burundi's President Cyprien Ntaryamira in a plane crash on 6 April 1994.
It is estimated that between 800,000 and 1 million people, including women and children, were killed in the three months from 6 April to 15 July 1994.