I'm invited to Italy to meet Gennaro Contaldo, the man behind Jamie Oliver's chain of Italian restaurants, to learn about pasta. Contaldo is best known as one of the Two Greedy Italians, the BBC series he fronted with fellow chef Antonio Carluccio – so he seems like the perfect guy to ask about the so called 'Carbonara War'.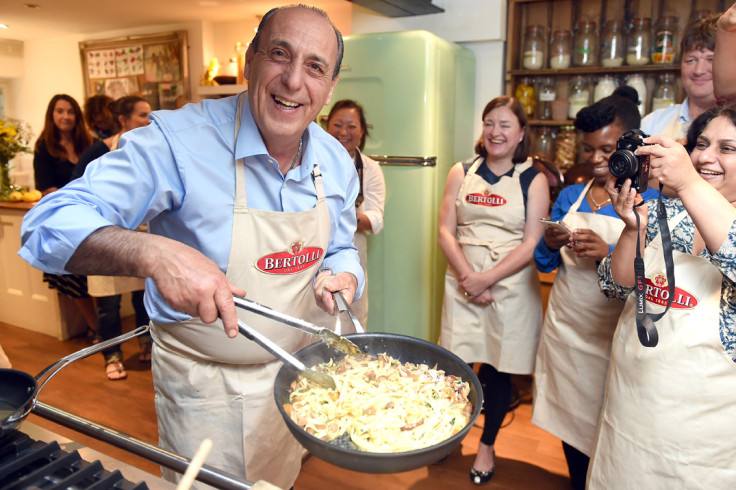 In case you missed it, carbonara-gate occurred when French website demotivateur.fr posted a recipe for one-pot carbonara, which Italians deemed a twin-travesty. Not only did it prescribe boiling the bacon and pasta in one pot, they flippantly flung in onions and crème fraiche too. The video went viral in Italy, with calls for a five minute silence for the desecrated dish, and pleas for the Italian Prime Minister to intervene.
What would Contaldo, who's pretty much the spokesperson for all things Italian, make of the cries for the French to stick to frogs' legs? "I don't come in France, and say, 'let me show you how to do the foie gras!' One pot carbonara? What a thing! They think they can cook it like stew?"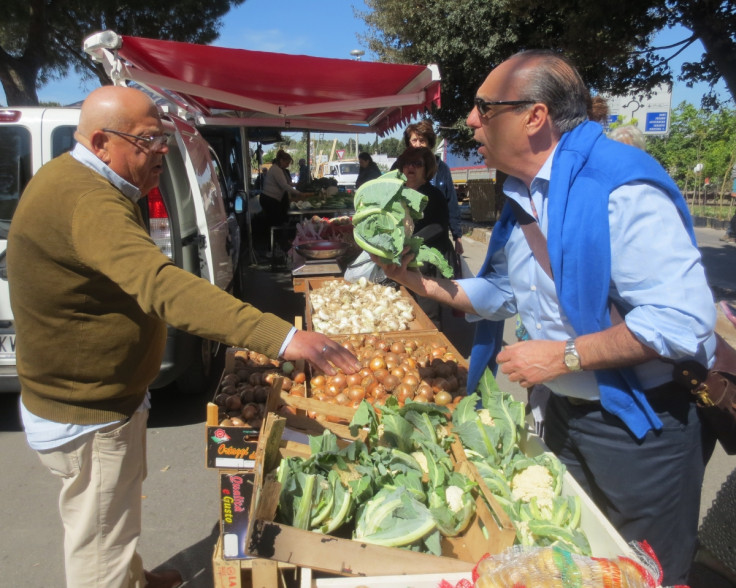 We are in Ostuni, in the southern region of Puglia. We spent the morning in a market, where Contaldo had an altercation over a cauliflower. An angry Italian snatched it off him, as he held it aloft, telling us how he'd cook it. Insisting that Contaldo should buy the cauliflower, the stallholder wrapped it in a paper bag and held it out to Contaldo, who in turn handed him some euros and then walked away - without taking it.
We're now eating gelatos, amongst limestone trulli buildings that look a bit like countryside oast houses. I risk Contaldo's wrath by asking why the Italians had such a strong reaction to the one pot carbonara. He says, "It's like if somebody comes inside your house and says, 'I don't like your furniture' or, 'I don't like the way your children are dressed!' Do you understand? It's like, 'who are you to tell me how to bring my children up?'" Contaldo is so appalled by the prospect of one-pot cabonara, he can barely get his words out: "I wouldn't even take notice! If they wanna do it, let them! One pot stew!"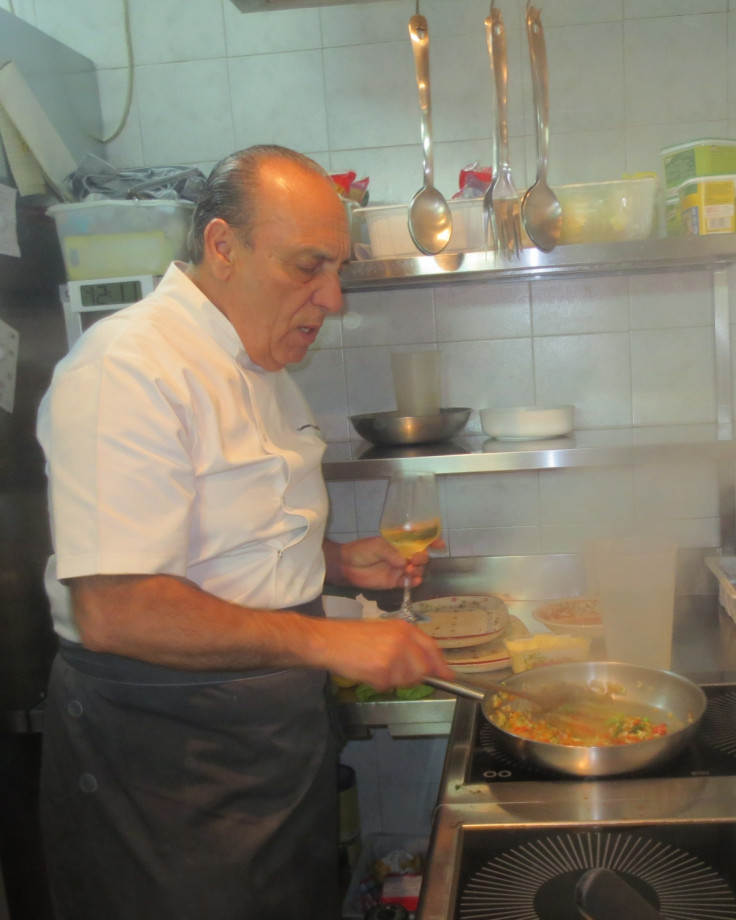 Contaldo's nephew, who's driven over from the Amalfi Coast, wanders over to our table. Contaldo talks to him in Italian, then turns to me and announces, "I told my nephew the French want to do a carbonara. He said, 'let them do it!"
I don't think he means it as an endorsement. I put it to Contaldo that the French have criticised other countries' cuisines – perhaps the flak coming their way is karma? "I think somebody says, 'let's upset the Italian!' Somebody's stupid if they think they can stir all the sh-sh-sh up! Course we will get upset!"
The French website has since removed the offending video, and replaced the recipe with a traditional one. Suspecting I can surmise the answer, I ask Contaldo if this was the right move. "Course it is! A good French chef don't even think of doing something like that! Do you know Madonna the singer?" I confirm that I am aware of her work. "Did you see her lovely t-shirt? It says, 'Italians do it better!'"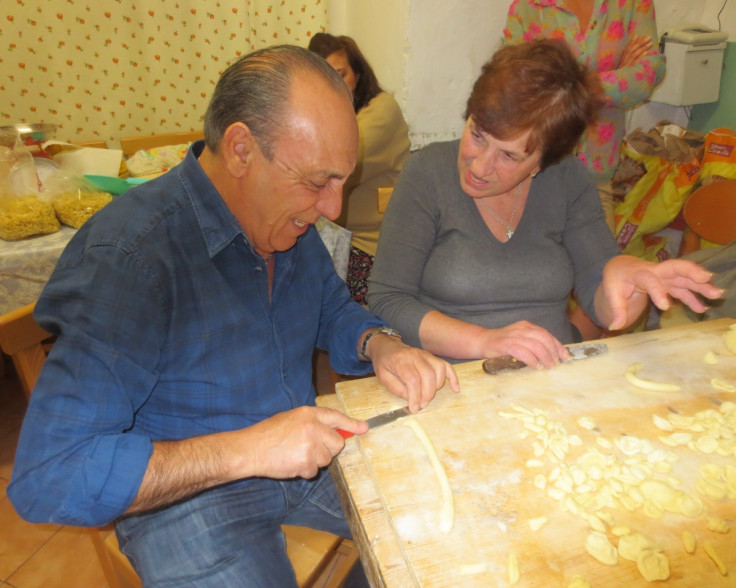 Contaldo makes it clear he's done with this topic – "Who picks these questions?!" – so I swiftly move from the Carbonara War to the Carbohydrate War. In an increasingly anti-carb climate, why should people make a place in their diets for pasta? Contaldo embarks on a eulogy: "Pasta is very good for you. Pasta will give you that kind of energy that releases slowly, but also, pasta is not expensive, pasta is easy to cook, pasta is very tasty. I am a cook, I have been eating pasta all my life, am I over weight? I'm not!"
Contaldo's wife Liz, who writes all his recipes, has joined us on the trip. I ask her how she stays slim in the midst of so much pasta. The question sounds like a headline for the Daily Mail's 'Sidebar of Shame', but thin thighs are my holy grail and Liz has legs for skinny jeans, despite being married to a man who carries focaccia as a tear and share snack. She says, "I walk a lot, but I've always been slim. At college they called me the whippet." She echoes Contaldo when she adds, "the most common misconception is that carbonara contains double cream – there's no cream, it's the egg!"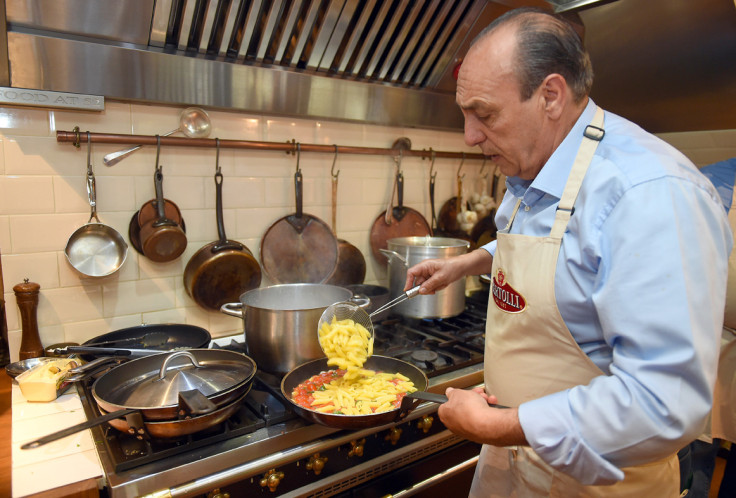 Contaldo explains that it's not the pasta itself that's the problem: "80g pasta is so fantastic, eaten every day, but some people like to use 200g pasta, and put 200g of sauce! That is what will kill you, not pasta!"
While we're on the subject of food wars, I ask Contaldo about wheat. He says, "If wheat doesn't agree with you, why should you eat wheat? But if somebody tells you, 'wheat is bad' and you listen to them, and let them put that inside your mind, you are not thinking properly. Listen to your body!"
The interview is interrupted in order to chivvy us to a tasting session where Contaldo translates for the deli owner, who we later learn speaks English. Saying goodbye the next morning, Contaldo and Liz ply us with lemons the size of The Oval cricket ground. If I'd seen them in the UK I'd have assumed they were GM (genetically modified) monsters, but the nephew has brought them from the Amalfi Coast.
I've never been the best in the kitchen - I am less Nigella Lawson, and more Nigel Benn in his boxing gloves - but on arrival back in London on Sunday afternoon, I find myself buying a basil plant and considering cooking. I've seen living proof of Contaldo's maxim - "Balance your diet and you can eat pasta for the rest of your life" – it might even give me thin thighs.
Samantha travelled to Puglia courtesy of Bertolli with Butter