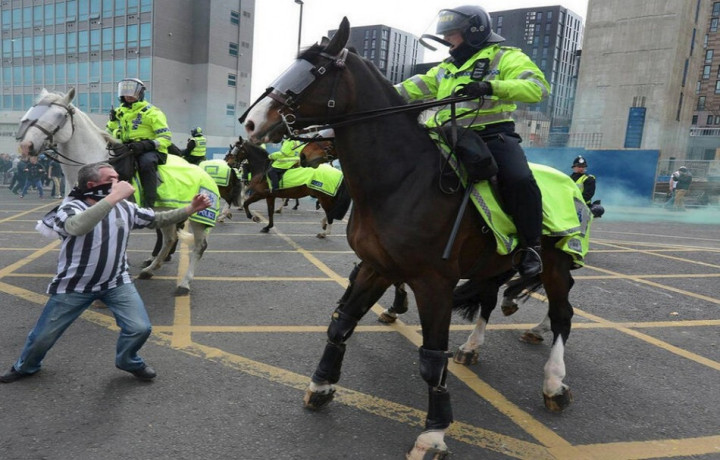 This is the moment a Newcastle fan bit off more than he could probably chew by squaring up to a police horse after yesterday's Tyne-Wear derby (Sunday).
The scarf-clad man punched the animal when he came face to face with it during disturbances in Newcastle city centre. The horse which was from the West Yorkshire constabulary was unhurt, a police source told IBTimes UK.
Violence erupted as Newcastle fans fought police after seeing their team thumped by deadly rivals Sunderland in the hotly contested derby .
A total of 29 supporters were arrested and a police officer was taken to hospital in clashes after the Premier League clash at St James' Park. Two other officers were hurt in disturbances elsewhere.
Trouble flared after full-time when a group of Newcastle fans attempted to attack a group of Sunderland fans as they boarded trains at Central Station.
The visiting fans were given a police escort away from St James' Park after watching their team win 3-0, in a game marked out by Black Cats boss Paolo Di Canio's manic touchline celebrations.
Missiles were hurled in the city centre by Magpies fans and the Metro line was forced to close amidst ugly scenes.
It followed isolated outbreaks of disorder inside the stadium, with smoke canisters let off before, during and after the game.
Violence in the Tyne-Wear derby came only a day after violence marred the FA Cup semi-final at Wembley, as Millwall fans ran riot by fighting amongst themselves.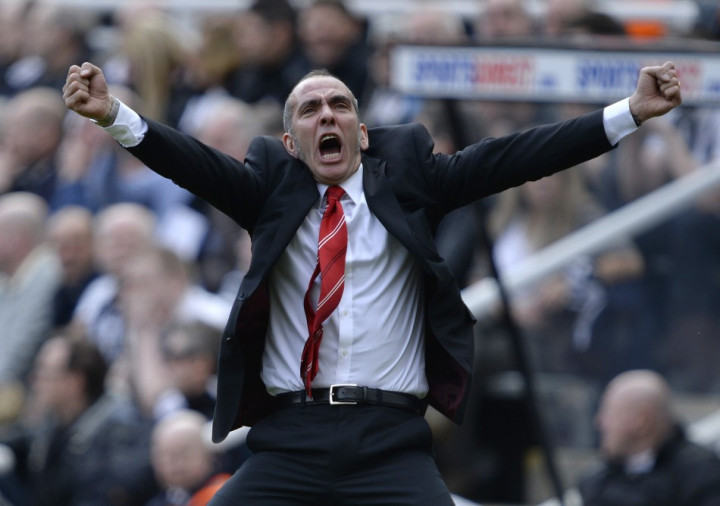 Northhumbria police Chief Superintendent Steve Neill said: "The vast majority of fans were well behaved today and enjoyed the Tyne-Wear derby for the great occasion that it is.
"Disappointingly, there was some disorder involving what appear to be Newcastle United supporters following the match in the city centre, including an incident at Central Station. Disruptive behaviour of any kind is not tolerated, enquiries will take place into these incidents and action will be taken against all those involved.
"This was very much a partnership operation and a lot of planning went into what is a large-scale policing operation to ensure that genuine fans were able to enjoy the game.
"Public safety is always our number one priority during any football match. For those who chose to get involved in disruptive behaviour, they were either dealt with swiftly by officers or will be subject to retrospective action at a later date."