Former footballer George Weah is taking an early lead in presidential elections in Liberia, partial results have shown.
Millions of Liberians headed to the polls this week to elect a new leader, as incumbent Ellen Johnson Sirleaf is stepping down after two terms in office.
Preliminary figures from the National Elections Commission (NEC) show that Weah is leading in 11 out of the country's 15 counties. His main rival, incumbent vice-president Joseph Boakai, leads in one county and is second in others.
"I can say for sure that Ambassador George Manneh Weah is going to be the next president of the Republic of Liberia," Weah's adviser Mulbah Morlu told Reuters. "The people of Liberia have spoken."
The final results will be announced on 25 October.
Candidates need to gain more than 50% of votes to win the election. If no-one wins a majority, a second round will be held in November.
NEC previously warned people against declaring verdicts on the election as "only the commission has the legal right to announce the results".
The warning came as Arsenal's manager, Arsene Wenger, wrongly congratulated Weah for his supposed election win in spite of the fact that final results had not yet been announced.
"I would like to congratulate one of my former players, who became president of Liberia," Wenger said. "It's not often you have a former player who becomes president of a country. So well done, Georgie.
International observes said they did not encounter major problems during the election, which could be the first time the country has a peaceful and smooth transfer of powers in decades.
However, some parties alleged irregularities took place.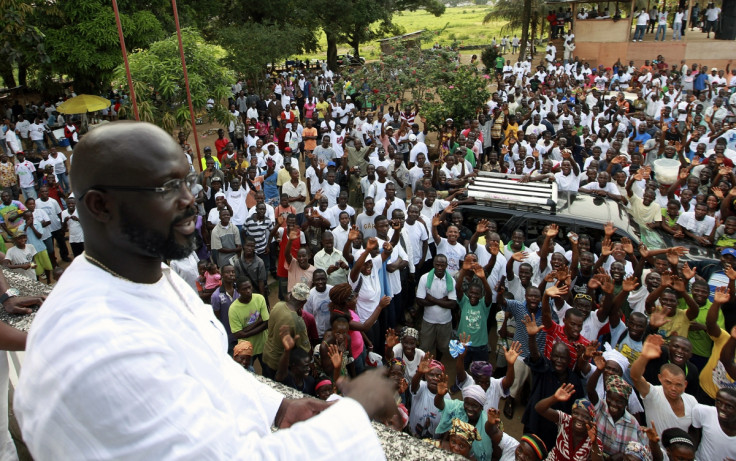 The country, which gained independence in 1847, had its last democratic transfer of power in 1944, when William Tubman was elected. He stayed in office for nearly 30 years.
Sirleaf, who became Africa's first elected female president in 2005 following a post-war transition, hailed the election as historic.
"We believe that all Liberians are ready for this process. I thank them for participating in this process," she said.
Sirleaf took office after her precedessor, Charles Taylor, was forced out by rebels in 2003. He is now serving a 50-year prison sentence in the UK for war crimes committed during a conflict in neighbouring Sierra Leone.