A British tourist facing jail after accidentally touching a man's hip in Dubai has been sentenced to a month in prison for drinking alcohol.
Jamie Harron, an electrician from Scotland, is facing three years in prison after he was arrested for drinking and public indecency in July.
The 27-year-old admits drinking alcohol, but denies allegations of public indecency and making a rude gesture at Jordanian executive Emad Tabaza, who claims he was repeatedly touched on the thigh.
A Dubai court sentenced Harron to a month in jail, a fine of 2,000 dirhams (£412) and ordered that he be deported.
The electrician will appear in court over the public indecency charge on 22 October. It is unclear whether Harron is currently behind bars in the strict Muslim country.
However, Harron's lawyers are appealing the sentence, which he claims he and his legal team were not made aware of.
The electrician has racked up more than £32,000 (€35,700) in legal fees and has been unable to fly home as authorities have stripped him of his passport.
Harron said: "My lawyers have put an objection in against my 30-day prison sentence issued in my absentia that me and my lawyer didn't even know about in the first place.
"I've lost my job, I'm in debt now and I may be going to prison. All this for a two-day stopover. It's just unbelievable, I'm still in shock that it's actually happened."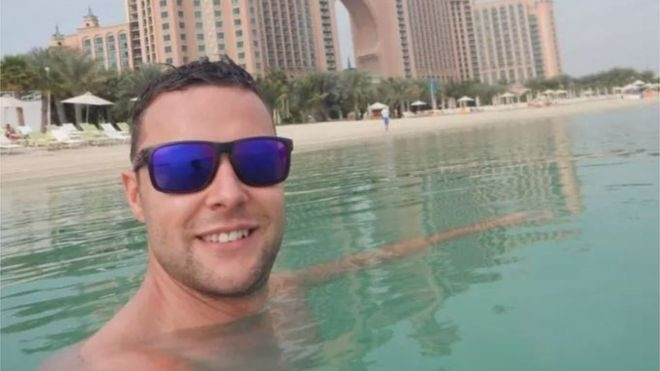 He added: "Apparently, I was sentenced for raising my finger at the man but I did not do that. I wouldn't do that."
The incident occurred in July when Harron was travelling from his contract job in Afghanistan.
The electrician said he and a friend had bought drinks in Dubai's popular Rock Bottom bar, when he placed his hand on the hip of man to ensure they didn't bump and spill their drinks.
But Tabaza, a managing director of engineering firm Neuman & Esser, said in a company statement that Harron had been "drunk" and "aggressive" at the bar and repeatedly touched his thigh before police were called.
The statement said: "During a private visit to a club in Dubai, one of our employees was touched by the suspect on the thigh several times. Our employee emphatically, but politely, requested the clearly drunk suspect to refrain from this."
The firm said Tabaza complained to the club's security staff, but after little was done he called the police.
"After the police arrived, the suspect repeated the process several times [touching our employee's thigh] in front of both police officers and explained that such conduct is commonplace in Europe", the statement continued. "As a result, the police arrested him."
Tourists who consume alcoholic drinks at licensed venues in Dubai can still be arrested for being under the influence of alcohol.
The Foreign and Commonwealth Office said it was providing consular assistance on Harron's case.