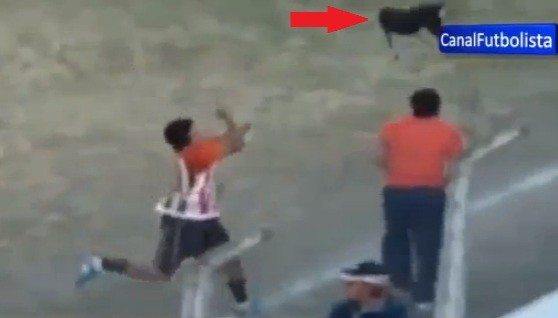 A football player sparked fury at a match in Argentina by grabbing a dog by its neck and hurling it into a fence.
In scenes captured on video, Jose Jimenez made himself even less popular than the referee in the game between Bella Vista and San Juan, in the lower tiers of Argentinian football.
The video shows Jimenez grabbing the animal by its throat and then throwing it high in the air, after it scrambled through a wire fence and held up play by running around the field.
The dog slams into a fence and falls to the ground - only to then get up and dash straight back on the pitch.
The incident happened shortly after Jimenez was substituted in the game.
Furious opposition players then surrounded Jimenez in the dug-out and a shoving match developed as team-mates rushed to his aid.
Angry fans threw cups of drink at him from the stands. The referee issued a red card for the violent action.
Afterwards, Jimenez did not help himself by blaming the incident on the referee for making him "nervous."
"I wasn't trying to hurt the dog, I just wanted to remove it because the (San Juan) fans sent it onto the field to waste time. The referee made me nervous."
However Bella Vista chose to blame Jimenez, ripping up his contract in the aftermath of the dog-chucking incident.