The force is strong with this one: Lenin statue gets Darth Vader makeover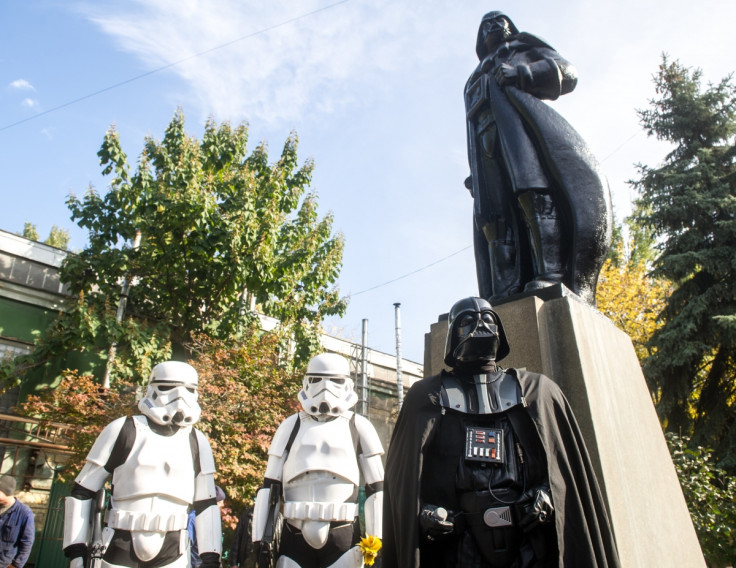 A statue of former Soviet leader Vladimir Lenin was given the mother (or should it be father?) or all makeovers after it was transformed into Star Wars baddie Darth Vader. The statue, in the Ukrainian city of Odessa, was due to be removed under new legislation that bans symbols of the country's former communist past.
After the so-called "de-communisation" laws came into effect in April, it seemed that the likeness of Lenin, in the grounds of a factory on the outskirts of the Black Sea port city, was destined for the scrapheap. But local artist Alexander Milov decided to step in and give it a modern makeover - just in time for the release of Star Wars: The Force Awakens on 18 December.
"The bronze Lenin was left inside, so that the grateful or not-so-grateful descendants could exhume him, if needed," the sculptor is quoted as saying by Ukraine Today. Much of the original statue remains, as the body was reinforced with new materials before being painted black (eagle-eyed readers will notice the head has been changed).
Fittingly, the force will be strong with the statue, which has a wi-fi hub installed in its helmut so the public can have free internet access. Strangely enough, the Sith lord has been involved in Ukrainian politics in the past - last year, Darth Vader(s) ran in the mayoral elections for Kiev and Odessa. Though they lost there's still hope, as yet another Darth Vader will be running in the mayoral elections in Odessa this Sunday (25 October). Impressive. Most impressive.
© Copyright IBTimes 2023. All rights reserved.