Foreign fire-fighting planes are helping to tackle massive wildfires tearing across central and northern Israel. The country's own emergency teams have been boosted by support from Palestinian firefighters and teams from Greece, Cyprus, Croatia, Italy, Russia and Turkey. Prime Minister Benjamin Netanyahu said he had also accepted offers of help from Egypt and Jordan.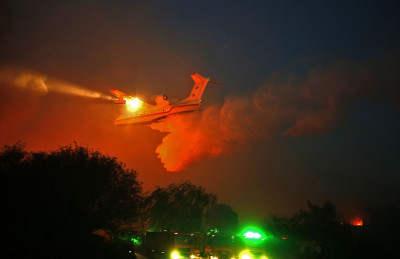 Netanyahu said he believed some of the fires were started with a political motive. "There are elements of terror here, no doubt, elements with great hostility toward the state of Israel," he told journalists.
Israeli police arrested 13 people on suspicion of arson. Internal Security Minister Gilad Erdan said those arrested were "minorities" – an allusion to either Arab Israeli citizens or Palestinians. The hashtag #Israelisburning trended on social media as some Arabs and Palestinians celebrated the fires and outraged Israelis reacted to their tweets. With no concrete evidence to support the claim, Arabs say the government is taking advantage of the tragedy to incite against them.
Late on Friday (25 November) a large fire swept toward the village of Nataf on the outskirts of Jerusalem, causing authorities to evacuate all of its residents. Local witnesses claimed the blaze was caused by a firebomb hurled from a neighbouring Arab village.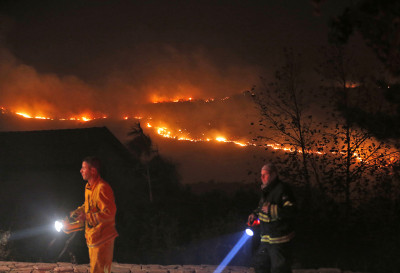 Firefighters have reined in the fire in Haifa that forced tens of thousands of people to flee their homes. Residents returned to their charred homes to assess the damage. Though no deaths or serious injuries were reported, several dozen people have been hospitalised for smoke inhalation.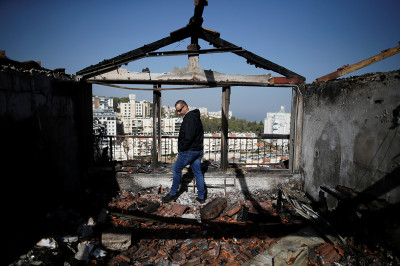 Unseasonably dry weather and easterly winds helped kindle the fires, which erupted on Tuesday (22 November) and now stretch across half the country.